Transform Your Intimate Well-Being with Vaginal Rejuvenation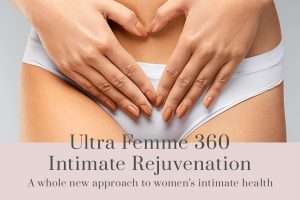 The one treatment every girl should have!
The trend to beautify one's intimate area has now arrived in Hong Kong.  Nude Beautique is pleased to introduce Ultra Femme 360, a non-surgical FDA-approved intimate tightening and rejuvenation treatment for safe, fuss-free and effective results with no downtime.
Leading beauty treatment centre Nude Beautique, is pleased to be one of the first in Hong Kong to introduce the groundbreaking Ultra Femme 360 Intimate Rejuvenation, a FDA-approved powerful treatment that promises to transform women's intimate health for the better. This revolutionary non-invasive procedure provides a complete intimate area rejuvenation of both the vaginal and labia safely, effectively and with no downtime or pain. Consider this a non-surgical alternative to a labiaplasty or vaginoplasty, with results that include vaginal and labia tightening, improvement in natural lubrication as well as intimate area sensations.
This treatment is great for women who are simply seeking an overall improvement of their intimate health aesthetically as well as intimately (i.e. sexual health).
It is especially beneficial for women who due to aging, childbirth or menopause may experience common intimate symptoms such as dryness, itching, looser labia, bladder incontinence, pain and/or less sensitivity during sexual intercourse.  The Ultra Femme 360 has been clinically proven to greatly improve (or even cure) these symptoms; 89% of women agreed that their stress urinary incontinence greatly improved. 62% reported that their conditions interference with daily life were completely eradicated while 93% agree that their sexual satisfaction had improved.
Women who previously were self-conscious, uncomfortable or embarrassed regarding their conditions can now regain confidence and enjoy their life without worry.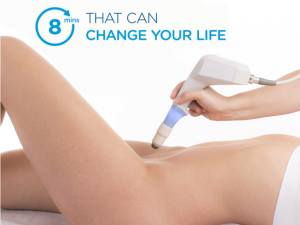 How it works
The Ultra Femme 360 technology features a unique 360° applicator that treats the tissue in the entire vaginal canal in all directions at once to reduce the treatment time to as little as eight minutes while offering more consistent outcomes. Using FDA-cleared radiofrequency and high frequency ultrasound energy, this treatment is safe and offers long-lasting, effective results. The transmitted energy stimulates the body's natural collagen production so that internally the vaginal canal will be fuller and feel tighter.
Similarly, the external treatment for the labia also boosts collagen and elastin so the genital area looks and feels plumper, with an improvement in wrinkles, elasticity and even colour.

How does it feel?
During the treatment, cooling ultrasound gel is applied to the areas to be treated. Different applicator tips are used for the internal and external intimate areas. The single use applicator will feel pleasantly warm but not painful and there will not be any irritation during the procedure. The internal treatment takes about 8 minutes and the external treatment takes between 8-20 minutes – in total, allow for about one hour for preparation, treatment and aftercare for the full internal and external procedure.
This revolutionary vaginal treatment does not require anesthesia and has no downtime. Patients may resume regular activity immediately after treatment, which makes this the perfect low-key lunchtime procedure for busy Hong Kong women juggling multiple responsibilities.
What are the results?
Ultra Femme 360 Intimate Rejuvenation plumps up the vaginal canal so it feels fuller and tighter. Externally, the labia will look and feel firmer, plumper and have an overall aesthetic improvement to result in a more youthful looking labia.
With the internal vaginal rejuvenation, it can greatly improve mild bladder incontinence and vaginal dryness as well as enhance overall sexual pleasure due to heightened sensitivity by stimulating blood flow to the clitoris.

How many sessions are needed?
Most women experience visible results after just one treatment, however for lasting results it is recommend to have 3-4 treatments that are seven to ten days apart (hence the full procedure can be done in less than month). A maintenance session every one to three months is also an option to ensure constant results. Peak results may take up to three months after the final treatment as collagen remodeling takes 90 days for a cycle to complete.
You don't have to spend the rest of your life feeling dissatisfied with the way you look and feel down there. Experience this life-changing treatment for yourself now! To read more about the vaginal rejuvenation treatment click here.
  Sassy Article: Are You In Pursuit of Pleasure In The Bedroom?
Sassy Mama Article: Do You Suffer From Dryness or Decreased Sensitivity During Sex?
To book an intimate rejuvenation session or for more information, contact or call 28689100 (ext 1) to our friendly team at Nude Beautique LKF Flagship branch!
* Ultra Femme 360 is not a medical cure for these symptoms. Improvements are dependent on Individuals with varying results.