Innovative new beauty products to try in 2023 (Part I)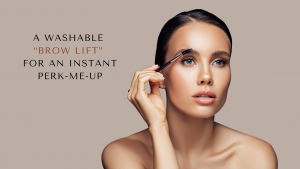 A washable "brow lift" for an instant perk-me-up
The Elleefix Brow Wax for eyebrows offers excellent hold for brows – until you wash it all off. Formulated to work even on oily skin, this vegan friendly and cruelty free brow wax works wonders on keeping even the most stubborn hairs in place. This is especially when your brow lift is at the end of its life but you have not made it to the beauty salon yet.
It is made with skin and hair friendly ingredients including sunflower oil extract to aid in the reduction of hair breakage and argan oil extract to strengthen and protect hair while forming a sheen around the hair shaft for more definition. The wax also contains Vitamins E and B5 to nourish the hair and create an improved texture.
To apply this, dip a clean disposable mascara brush or application brush into the pot to pick up the wax. A little goes a long way – and helps to prevent excess product wastage – so use it sparingly. Using the brush, gently brush the product through your brow hairs in an upward and outward motion to style your brows as desired.
At the end of the day, use your favourite eye make-up cleanser to remove the wax and the rest of your eye make-up.
Available online or at Central branch.