Resultime by Collin Paris: The Best Anti-Aging Facial in Hong Kong?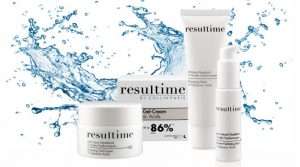 Leading French skincare brand Resultime by Collin Paris has earned a reputation for its hyper-effective age-defying products. See the results for yourself with an anti-aging facial in Central.
The French have always been at the forefront of the beauty industry, pioneering new ingredients, therapies, and products — and this brand was the first to invent the collagen face sheet.
Following suit, Resultime by Collin Paris is ever innovating its cutting-edge cosmetology.
Best known for its affordable anti-ageing products and facials, the French brand has been devoted to performance since 1957.
Due to limited supply, it's hard to come by Resultime by Collin Paris in Hong Kong — or outside of France, for that matter. But Nude Beautique is proud to be among the few beauty centers to offer these best-selling products and facials in Hong Kong.
If you're looking for an affordable and effective facial in Central — and who isn't? — Resultime by Collin Paris is a winning choice. With a focus on anti-aging results, Resultime by Collin Paris facials specialize in boosting collagen and with the use of glycolic acid, it combats the signs of aging on a molecular level.
It all comes down to the brand's key ingredient: Vectorised Micro-Collagen. We lose collagen and other essential skin molecules as we age, but this patented ingredient has ultra-effective collagen regeneration qualities that have been proven by rigorous clinical testing.
Essentially, Vectorised Micro-Collagen works with natural occurring skin molecules — such as amino acids, hyaluronic acid, ceramides, and vitamins — to enable higher penetration and diffusion within the skin's epidermal layers.
One of the most popular and effective facials in Hong Kong is the Anti-Ageing and Radiance Facial (HK$1,280; 60 minutes), which harnesses the power of Vitamin C and 100% native collagen sheets. The result? Improved suppleness and elasticity, repaired skin tissue and damage prevention to protect your skin from whatever life throws at you next.
The intensive Anti-Wrinkle & Firmness Cellular Facial (HK$1,380; 90 minutes) is another favorite facial. Working wonders for aging skin, the facial harnesses the power of hyaluronic acid micro-spheres to smooth, fill and plump fine lines and wrinkles.
It may come as no surprise, but these anti-aging facials are also actually quite popular among men. Guys don't always know where to go for men's facials in Hong Kong, but they always appreciate Resultime by Collin Paris' affordable prices and results-driven products.
After all, Resultime by Collin Paris products have garnered a cult following. Particularly the best-selling Regenerating Collagen Gel, which contains 15 naturally occurring molecules that work to plump, hydrate, smooth and firm up your skin.
Not only are these products among the world's most effective, but they're actually surprisingly affordable too. Luckily, you don't have to travel to France to get your hands on these age-defying miracle products. Nude Beautique, Hong Kong's leading beauty center, stocks all of the leading Resultime by Collin Paris products and offers the brand's top-performing facials in Central and Causeway Bay locations.
To see the full list of Resultime Facial Treatments, click here.