HIFU: A Revolutionary Face Lift Without Any Surgery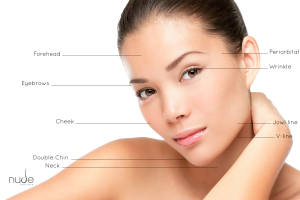 Thirty minutes to lifted skin and a flattering V-shaped face? Sign us up! A sought-after treatment in South Korea, the revolutionary HIFU (High Intensity Focused Ultrasound) has landed at Nude Beautique, Hong Kong's top beauty . Here's why women are flocking to experience the instant and long-lasting results.
At some point in her life, every woman starts to notice unwanted changes in her skin: Maybe a sagging jaw line, crows' feet, widening pores, dull skin or a droopy neck. For some, signs of aging set in as early as the 20s; for others, gravity might not begin its downward pull until much later in life.
Regardless of the individual aging process, most women will benefit from revolutionary HIFU face-lifting technology. Harnessing high-intensity focused ultrasound technology, HIFU promises to lift and tighten skin, creating a V-shaped face without any needles or surgery. Unlike cosmetic surgery, lasers or Botox, HIFU does not damage the skin's surface – it's completely invisible, aside from the results – and there's absolutely no down time.
How does it work? Put simply, HIFU's ultrasound power comes from its ability to emit thermal sound waves at highly precise depths. Using an innovative South Korean Ulfit machine, which is significantly less painful than other HIFU machines on the market, Nude Beautique therapists can penetrate three key skin layers: The Epidermis (1.5mm), Dermis (3mm), and Superficial Muscular Aponeurotic System (4.5mm).
Each depth is crucial: At 1.5 mm, HIFU will smooth wrinkles and contour skin; at 3mm, HIFU will boost collagen, improve skin texture and minimize surface imperfections; and at 4.5mm, HIFU lifts skin and creates a V-shape effect. The resulting collagen boost instantly creates a V-shaped face and lifts areas such as the forehead, eyebrows, cheeks, jowl line, neck, double-chin, and crow's feet around the eyes. Better yet, HIFU stimulates collagen production for the next six to 12 weeks, meaning results continue to improve for months after the treatment.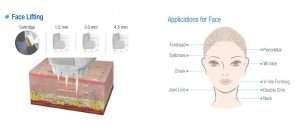 During my visit, I wanted to focus on my face, where I noticed a slight pouch developing near my jaw line and puffy under-eye tissue. Until I learned about HIFU, I would have assumed the only solutions to these common concerns would be an invasive surgery or Botox – neither of which interested me. A traditional facelift often requires significant down time, while Botox only lasts about four months and the injections are known to cause unnatural side effects.
So when I heard about the HIFU nonsurgical lift, I thought I'd give it a try. At Nude Beautique, my therapist Pauline led me into a comfortable treatment room, where she identified the various instruments and explained how the process works.
While I relaxed on the treatment bed, Pauline started by taking some "before" pictures so that we could compare the results. Then she massaged a cool gel across my face and neck. She cautioned that the first few minutes would be the most uncomfortable, because the ultrasound would zap the deepest layer of skin, called the Superficial Muscular Aponeurotic System (SMAS). About 4.5 mm below surface level, right along the muscle, this area is where collagen is stored and produced. By stimulating the tissue, Pauline explained, the collagen will continue to reproduce for weeks after the treatment and provide a sturdier architecture for my skin.
Using a handheld Ulfit applicator, Pauline massaged the instrument's head into my skin in an upward motion. Each pulse felt like an electric current. Generally, it wasn't painful, though there were a few places around my mouth and eyes that were more sensitive. After about 10 minutes, Pauline switched the nozzle and began again, this time targeting the middle layer, called the Dermis. The second wave feels totally fine, hardly any discomfort at all. Next, she massaged my neck and used the applicator to emphasize my cheekbones, create a V-shaped jawline, and minimize pores.
Roughly 25 minutes later, the treatment was complete. It was quick enough to squeeze in over a lunch break – and my face looked remarkably improved. Not only was my jaw line sharper and more V-shaped, but my eyes looked brighter and . In addition, my pores appeared smaller, and my skin's texture seemed smoother. Even a few weeks after the treatment, I continued to see long-lasting results as my jawline and cheekbones appeared dramatically tighter!
Of course, the obvious cosmetic improvements give HIFU its reputation, but there's a transformation happening under the surface as well. The continuous boost in collagen production below the surface become strong and healthier, resulting in more youthful and radiant-looking skin over time.
While the very first treatment yielded immediate results, Pauline says a course of four treatments at one-month intervals will create results that last for up to two years. Two hours' worth of HIFU treatments for two years of results? Compared with cosmetic surgery, which promises similar results without a continuous collagen boost, the price point is a steal!
To celebrate HIFU's Hong Kong debut, Nude Beautique is pleased to offer an introductory promotion at our Flagship LKF and TST branch. Book a HIFU trial at HK$2,388 (originally $8,000) or a package of 4 for HK$24,000 (Originally $32,000).
To secure an appointment, make a booking in advance at our Flagship LKF or TST branch. Call 2868 9100 (ext 1) to book!