Fur Oil for Pubic Hair Now Available in Hong Kong
Fur Oil for Pubic Hair is the newest product exclusively available at Nude Beautique. Chic and luxurious, this newly launched American brand promises to make caring for your hair down there a pampering and enjoyable experience.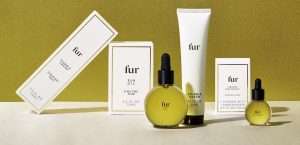 Your hair in your nether region deserves as much TLC as the tresses on top of your head. But while there is no shortage of designer hair care brands for your crowning glory, there has never been a stylish range of quality pubic hair care products to keep your bush in tip top condition – until now.
Enter Fur, a premium range of all natural quality products from the United States that's formulated specially for body hair and the skin the hair grows on. Now exclusively available at Nude Beautique in Hong Kong, Fur is the brand that in-the-know beauty junkies and magazine editors can't stop raving about.
Fur Oil to pamper your pubic region
The star product of the range is Fur Oil (HKD420), a nourishing and fragrant blend of nine essential oils that softens hair, clears skin and prevents the formation of ingrown hairs. Encased in a stylish spherical glass flacon, Fur Oil is certain to be an elegant addition to your top shelf.
It contains grape seed and jojoba oils to soften and condition pubic hair; tea tree oil, which has antimicrobial properties to clear pores and minimise ingrown hairs and clary sage seed oil to soothe and reduce skin inflammation. With its lovely floral scent and a texture that absorbs quickly and doesn't feel sticky to touch, this oil is the pampering product your privates deserve.
Recommended for use after hair removal
Yes, it's great for use after a bikini wax or other hair removal treatments. This lightweight product not only helps to prevent ingrown hairs, it also soothes itchy skin when hair grows back and also softens the stubble regrowth so it doesn't poke into your sensitive skin.
To use, simply massage a few drops of the oil over the skin right after treatment and daily on clean hair and skin.
In fact, Fur Oil is a multi-purpose oil that can be applied to any other part of the body where hair grows, from your underarms and legs to facial hair for men, making it a truly versatile oil for all your grooming needs.
Take it from the brand's most famous fan, actress Emma Watson, who says, "I'll use that anywhere from the ends of my hair to my eyebrows to my pubic hair. It's an amazing all-purpose product."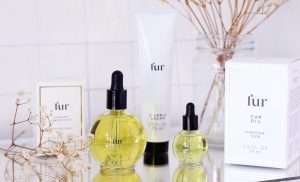 Complete your collection
Nude Beautique is also exclusively retailing:
Those who are currently battling ingrown hairs will want to check out the Ingrown Concentrate, the first natural oil formulated to soothe skin and soften prickly stubs under the skin without the use of harsh chemicals. It contains coconut oil to soften regrowing hair and tea tree oil to inhibit bacteria which contributes to ingrown strands. It even comes with a thoughtful finger mitt for gentle exfoliation of ingrown areas in the shower once a day.
There is also the Stubble Cream, which has a lightweight, fast-absorbing lotion texture to gently condition stubble that can irritate sensitive skin. It contains a similar blend of botanical oils to Fur Oil as well as shea butter, which has healing properties to protect delicate skin. This is best used daily on areas where you frequently remove hair completely such as the underarms, legs and beard.
Best of all, all Fur products are free of parabens, sulfates, acids, cortisones and are dermatologically and gynaecologically tested to be safe for use even on the most intimate parts of your body.
You've been warned, your partner might start dipping into your Fur stash too!