Nude Beautique Lan Kwai Fong Unveils a New Look
Nude Beautique Lan Kwai Fong, Hong Kong's best beauty center,  just got even better. Nude Beautique LKF recently revamped its welcoming reception area and treatment rooms, revealing a brand new look in March 2017.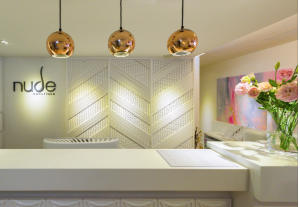 Chic, modern, minimalist… the Nude Beautique Lan Kwai Fong beauty salon, in M88 Wellington Place, has had a little makeover. Debuted in March, the waxing and laser specialist reopened its doors with a completely new look.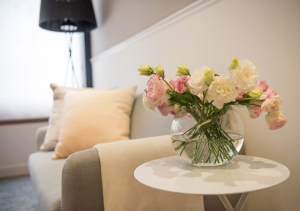 Created with our clients in mind, the salon is designed to enhance comfort and easthetics. We've simplified the space with clean and contemporary colors, fresh flowers and new furniture.
The most dramatic change? We traded in our formerly all-pink & brown, Victorian-era vibe for a more sophisticated and chic color palette, featuring shades of soft charcoal and slate, clean white accents, and pops of pale pink that bring the space to life. The new colors were incorporated earlier with our revamped website in mid 2016 and finally translated into the new look of our flagship beauty salon. Walking into Nude Beautique in LKF feels like the top-class beauty center that it is. In addition, the sophisticated shades of gray creates a uni-sex vibe that ensures our male customers also feel more at home.
The new experience starts in the reception area, where we have incorporated our chic new color palette to make an excellent first impression. Expect sleek gray wallpaper, which lightens up the whole space, as well as rose-gold metallic details for a hint of shimmer. Natural light spills into every space through airy drapes, creating a sense of warmth and tranquility. Inside the treatment rooms, the sleek design continues with added simple and contemporary armchairs and side tables to make guests feel at home in each room.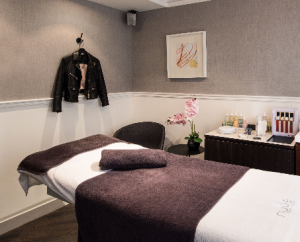 Several months in the making, the makeover has been a labor of love. The Nude Beautique Lan Kwai Fong team carefully selected each painting, piece of furniture and accessory in the space — sourcing them from around the world to bring together this final look. The result combines a balanced mix of textures and fabrics. From the wallpaper to the furniture, Nude Beautique guests will appreciate the contrasts and thoughtful details.
While the look might be entirely new, rest assured Nude Beautique's excellent customer service, personalized treatments, and top-of-the-line technology haven't changed a bit. The beauty center has been at the top of the Hong Kong waxing game since 2005. A hair removal specialist, Nude Beautique was one of the first beauty centers in Hong Kong to specialize in Brazilian waxing.
After more than a decade in the business, we are still the best waxing specialist in Hong Kong. We also offer a wide range of beauty services, including hair removal, facials, slimming treatments, eyelash tinting, waxing, facials, massages and more.
Curious about the new look? Stop in anytime! Unit 14-01, M88 Wellington Place, 2-8 Wellington Street, Central, Hong Kong, 2868 9100. See you there!