How to Exfoliate Bikini Area Before a Wax: Do's and Don'ts
To avoid ingrown hairs and bumps down there, it's best that you know how to exfoliate bikini area before getting waxed. Nude Beautique's experts dig into the do's and dont's of exfoliating your bikini area, so you can make the most of this game-changing beauty ritual.
When it comes to exfoliating your bikini area, a proper scrub will reveal silky smooth skin in between Brazilian waxing appointments. Do it wrong? Breakouts, irritation and inflammation will soon follow. Nude Beautique is a huge advocate for regular exfoliation, as it's one of the most effective ways to prevent ingrown hairs, not to mention clear away dead cells to reveal healthier-looking skin. With these tips from Nude Beautique's beauty specialists, you'll whip your bikini area into shape in no time.
What are the exfoliation basics?
Exfoliation is a game-changing addition to any beauty routine. Why? Even if you cleanse and moisturize religiously, it's not enough to promote cell regrowth or reveal smooth skin. Unfortunately, the build-up of dead skin cells can trap hair beneath the surface and lead to painful and infected ingrown hairs.
What are the benefits of exfoliation?
A weekly scrubdown is beneficial for so many reasons. First of all, exfoliation smooths, refines and brightens skin's texture by clearing away dead skin, responsible for those nasty ingrown hairs. In addition, it deeply cleanses pores, which helps to remove gunk and buildup that can become infected. Not only will it help your skin's look and feel, but it also aids skin on a deeper level, promoting cell growth for younger-looking skin.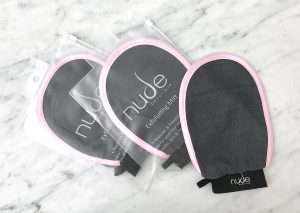 How do I exfoliate properly?
To get started with learning how to exfoliate bikini area, you'll need a few supplies. Prepare a body polish and your scrubber of choice: we recommend exfoliating gloves for easy application. Warm water will open your pores and enable a deep cleanse.
If you use an exfoliating cleanser, begin scrubbing the bikini area in an upwards circular motion. Rinse your body with lukewarm water and always remember to moisturize your entire body after exfoliating. Continue moisturizing once a day afterwards to keep your skin hydrated until the next week when you get your Brazilian wax.
What are the do's and don'ts of exfoliating?
DO
Exfoliate weekly. A regular practice will keep your skin bright and healthy.
Recently waxed? Wait 5 days before exfoliating. And when hairs eventually start growing back, we recommend exfoliation every 2-3 days. This will help to prevent ingrown hairs and keep the area super smooth.
The Brazilian area is more sensitive. We suggest using a gentle exfoliating glove or a gentle body scrub to avoid irritating the area.
Natural loofahs are a great option; however, they breed more bacteria and need to be replaced frequently.
Body polishes and body scrubs with tea tree oil are preferred, as they have anti-bactierial properties.
Use body lotions and facial moisturizers containing alpha or beta hydroxy acids. These acids will continue to remove dead cells after you finish exfoliating.
Try to exfoliate in the morning, as your skin will renew itself overnight.
DON'TS
Sunburned? Put the scrub down. Don't exfoliate if you are sunburned or you have open wounds, as it will further irritate your skin.
If you're acne prone, steer away from strong scrubs, as they can contribute to breakouts and could also break the skin.
Don't buy just any exfoliator. If you have sensitive skin, look for a specially formulated product — be sure to examine the ingredients for anything that may irritate your skin.
Don't over-exfoliate. Once or twice a week is plenty.
Be especially gentle in the bikini area, which tends to be more sensitive.
Ready to get started?
Come visit us at Nude Beautique! We have all the gear to jump-start your new beauty ritual, from exfoliating cleansers to our best-selling exfoliating gloves that will not only make your entire body buttery smooth but last you months on end. We have several other products for the extra-sensitive Brazilian area, including solutions for ingrown hairs. Visit one of our Nude Beautique locations for more insight from our beauty specialists.