Is Brazilian Laser Hair Removal Safe?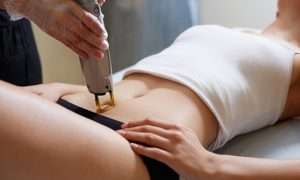 Is Brazilian laser hair removal safe? Not only is laser hair removal safe for your intimate areas, but it's one of the fastest-growing treatments in the beauty industry. Nude Beautique, the Hair Removal Specialists in Hong Kong dishes on everything you need to know about Brazilian and Manzilian laser hair removal.
Over the past year, Nude Beautique has seen an uptick in Hollywood (all off) and Brazilian laser hair removal services among both men and women. But Brazilian or a Manzilian laser hair removal is still unfamiliar territory for those who might be more accustomed to waxing or simple trims.
Lots of questions are likely running through your mind: Is laser on Brazilian safe?
Will it hurt? Will it really be permanent? Nude Beautique is pleased to be able to put you at ease.
First things first: is it safe?
Without a doubt, Brazilian and Manzilian laser hair removal services are perfectly safe for both men and women. However it is extremely important to choose a laser system that is certified for safety.  At Nude Beautique we only employ the best technologies that are FDA-approved by reputable global companies.
There's no reason to worry about the laser penetrating your organs or damaging your insides – the lasers only target hair follicles at the root to disintegrate the hair.  Our safe and efficient, FDA-approved process works best on area with high color contrast, so Manzilians and Brazilians tend to be extremely effective for those with light skin and black or brown hair. If you have darker skin and dark hair, there is a slightly higher chance of skin sensitivity since the laser targets melanin, the substance that gives hair and skin its pigment.
It's also important to note that Brazilian laser hair removal works best during hairs' active growth phases. Since each follicle grows at a different pace, so it typically takes between 5 and 7 sessions for the treated area to be hair-free.
Once silky smooth, how long will it last?
Laser hair removal has been scientifically proven to be the most effective hair removal service on the market. While forever is a bold promise, Brazilian laser treatments are about as close to permanent as you can get with modern beauty technology.
Laser for men tend to last longer than laser for women, because hormones play a major part in perpetual results. For instance, women's hormones change over time – life events such as pregnancy or menopause can result in hair regrowth.
After treatment, it's possible that few women may need a touch-up every few years to remove any regrowth. But not to worry – we're not talking about a full-on comeback. In some cases, about 5% of hair returns and, even then, it's usually very thin baby hairs.
Whereas, with relatively stable hormones, male laser Brazilians tend to see more permanent results. In most cases, there's little bit of baby hair leftover because it's more difficult to absorb the laser. The Clinical studies of our system shows removal of up to 95% of hair is possible for those with stable hormones, dark hair and fair skin – the ideal combination.
Does it hurt?
If you're worried about laser hair removal being painful, rest assured that most sessions are described as a warm snapping sensation. At Nude, our laser technology has an in-built cooling system to help with the pain and protect the skin.  Of course, pain felt will till depends on hair color, skin color, hair types and personal pain tolerance.
For instance, women with extremely coarse hair might feel a more intense heat sensation since the laser will be absorbed more to remove the thick hairs. If your skin is darker, then we suggest using a lightening cream (which Nude also sells) prior to treatment, to ensure the laser is absorbed by the hair and not the skin. This easy step will make the process faster and more effective.
Overall, most clients find laser on Brazilian areas more painful than, say, your arms or legs since hair tends to be coarser – but it varies from person to person. Additionally, some women may feel especially sensitive while menstruating due to hypersensitivity in the area. The further you get in the treatments, the less painful it will be as there are fewer hairs to remove.
How much does Laser Hair Removal Cost?
There are a number of factors that determine the cost of Laser Hair Removal:
– Desired Area (the larger the area the more costly)
– Type of Laser Hair Removal Machine (Laser generally cost more than IPL however they are more efficient. Also being a FDA approved systems ensures higher safety features which is what you want to pay for)
Overall, there are always cheaper options such as IPL (usually made in China) however you will most likely need serveral more treatments compared to Laser Hair Removal which can end up costing you more in time and money.  With our Laser Hair Removal Systems, you can also rest assure that it's not only efficient but safer too which will give you peace of mind.
Have more questions? Please take a read of our Permanent Laser Hair Removal page or come visit us in person. Nude Beautique offers state-of-the-art permanent laser hair removal services in three locations across Hong Kong. Make an appointment today.