Get A Glowing Complexion, Down There

For a gentle yet effective way to lighten up your vaginal area, try this dermatologist-trusted brightening treatment only at Nude Beautique, Hong Kong.
How can I lighten down there?
Is one of our most frequently asked questions.  The reason why this is so common is because skin gets darken with time. The pubic area is one of the more sensitive parts of the body and is prone to hyperpigmentation and even sagging skin with age. Other factors, such as over shaving the Brazilian area, which aggravates the skin, or wearing clothes and underwear that are too tight can worsen the issue. While this is a natural process, we understand and have solutions to lighten and maintain the fair appearance of your brazilian area.
Try Nude Beautique's Brazilian Lightening Treatment
At Nude Beautique, we recommend our gentle but highly effective Lightening Treatment, which you can think of as a "facial" for your vagina. This five-step procedure uses dermatologist-trusted skincare brand Exuviance from the USA and takes only 30 minutes, making it an ideal lunchtime procedure. Besides lightening the skin, it also offers rejuvenating benefits by making the brazilian area softer, smoother and radiant.
During this highly relaxing session, a highly experienced therapist will cleanse your bikini area before administering a pre-peel treatment. Next, the gentle salon-grade peel is applied to brighten the area and to give a smoother and softer appearance. This is followed by a neutraliser and a soothing lotion to end the session.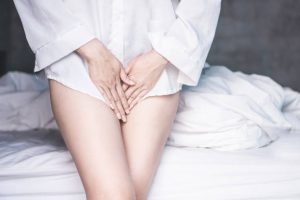 What are the benefits?
Besides the brightening effect, our Brazilian Lightening Treatment is also rejuvenating and restores plumpness to this area for a more youthful appearance. Other benefits include:
Removal of dead skin cells and dark spots
Reduce ingrown hair, which can cause itching and unsightly bumps
Brighten and lighten skin
Boost collagen production so the Brazilian area is more plump, less wrinkles and smoother to the touch
Boosts cell regeneration for firmer, radiant skin.
How to get the most of your treatment
The experts at Nude recommend that the lightening treatment be done one to two weeks after a wax as waxing can cause the bikini area to be more sensitive. You can have this treatment done without waxing but will experience better results on hairless skin.
Results: As this is a gentle treatment focused on long-term results, you will start to see results after about two to three sessions. This is because it takes up to 28 days for the cell regeneration cycle. For long term results, we recommend once-a-month sessions for about six to seven sessions.
To maintain and get the most of the vagina lightening treatment, you can consider pairing the treatment with a home care
Lightening Gel for Sensitive Areas from South Beach which can be applied daily to lighten stubborn dark spots and will reduce the occurrence of ingrown hair.
Fur Silk Scrub can be used as a gentle exfoliator or leave on for 10 minutes as a mask to lighten, exfoliate and soften the intimate area.
These products can also be used on other parts of your body including the upper arms, underarms and lower back.

3 Tips To Keep Your Vagina Youthful And Healthy
Besides salon treatments, there are also steps you can take to keep your vagina looking and feeling young naturally.
We recommend practicing kegel pelvic floor exercises to keep your muscles down there toned and firm. Another good practice is to have sex more frequently (yes, that's right!) to increase blood floor to your vagina, which helps keep this area lubricated.
When possible, wear breathable cotton underwear instead of thongs. Sometimes, going commando when you sleep is ideal too!
Use a mild wash for your Brazilian area when you shower to maintain this area's natural pH balance. If you would like to use skincare products, stick to gentle, fragrance-free products like the highly popular Fur Oil, which safely keeps both your hair and skin soft.
Together with the recommended treatment at Nude, Hong Kong's favourite beauty salon, you can maintain the youthful appearance of your vagina for many years to come. The Brazilian Lightening Treatment, which is currently at a trial price of HK$380 (Usual price: HK$580), is available at all Nude branches.
For a complete intimate rejuvenation treatment inside and out that is non-surgical, you may be interested in our Ultra Femme 360. Email us or call to book a consultation now to find out what works best for you.
*Brazilian Lightening Treatment may not be suitable for those who are pregnant, have taken retinol or retin A, have prolonged exposure to sun or have skin issues such as dermatitis, skin abnormalities, keloids, thick scarring, psoriasis, eczema, injuries, vitiligo, Herpes simplex, fever blisters or cystic acne. Do consult our therapists should you have any concerns before a treatment.
ONLINE BOOKING:
Central Branch
Causeway Bay
Tsim Sha Tsui