Essential Beauty Tips In a Time Of Covid-19

Essential tips to follow to stay gorgeous and healthy while staying protected from the COVID-19 virus in Hong Kong.
As the new coronavirus or COVID-19 continues to spread around the world, we all have a part to play to keep ourselves healthy. We are all aware of the need to practice frequent hand washing, avoid touching the face and to wear masks. However, these practices are also prone to causing skin irritation, both on the face and hands.
As there are many other things to worry about, it is always nice to put your best face forward when dealing with life's challenges! So, here are Nude Beautique's essential beauty tips to stay healthy and beautiful in a time of COVID-19.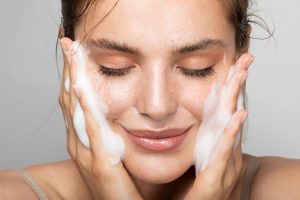 1. SKINCARE – Skin Needs Extra Care to Combat Issues from Wearing Masks
While masks can offer protection, the trapped air under the mask can increase your skin's exposure to sweat and bacteria. After many hours of trapped moisture, the sweat and bacteria close to your skin's surface, tends to irritate and clog your pores, leading to breakouts and rashes. To keep your skin smooth and blemish free, here are some tips:
avoid using heavy make-up such as thick foundation, blush or lipstick
brush and floss your teeth more frequently so that you do not breathe out germs that may aggravate your skin
apply a barrier cream to create a protective layer for your pores
cleanse your skin thoroughly (even double cleanse) to remove impurities so your skin can breathe.
We also recommend undergoing a deep cleanse facial more frequently, at least once a week. Nude is now offering our Detox Facial at a promotional price of HK$888 (usual price: $1,380), which is perfect for our skin during this time.
2. EYE CARE – Shift The Focus To Your Eyes
Now that most of your face is covered by a mask, you might as well dial up your eye game and beautify your peepers for maximum effect. How?
Nicely groomed brows
With Benefit Brow Bar recently closed in Hong Kong, look no further than Nude's Eyebrow Wax (now at 25% off in March)
Avoid Threading services (we have suspended this service as our therapists must wear masks)
Lush, fluttery lashes
Lash Extension or better yet, a Lash Lift for your lashes will enhance your eyes without needing too much make up. First timers can enjoy our Lash Lift and Tint treatment at an introductory price of HK$400 with a complimentary lash mask.
Reduce those eye bags
Do also get sufficient sleep at night to reduce the appearance of eye bags and dark eye circles. If this is a longstanding problem for you, consider Nude's Exilis Ultra Face 360 (trial at only HK$360 for eyes), which uses the latest ultrasound technology to improve eyebags and reduce fine lines and wrinkles. Results after the full treatment can last up to 2 years!
3. NECK CARE – Do Not Neglect Your Nect
The neck is another area that you can highlight while wearing a mask. To ensure your neck looks smooth and line-free, do take care of it in the same way you would with your face. This means cleansing the neck carefully and applying a good moisturiser and sunscreen daily. If you have an at-home exfoliating and masking routine, you should use some product on your neck. This will help to prevent the signs of age and sun damage, such as dark spots, pigmentation and deep creases.
Additionally, Nude's Innovative HIFU treatment, which uses ultrasound technology from South Korea, is a reliable non-surgical treatment which can lift and tighten skin and reduce age lines on the eye, face and/or neck area instantly.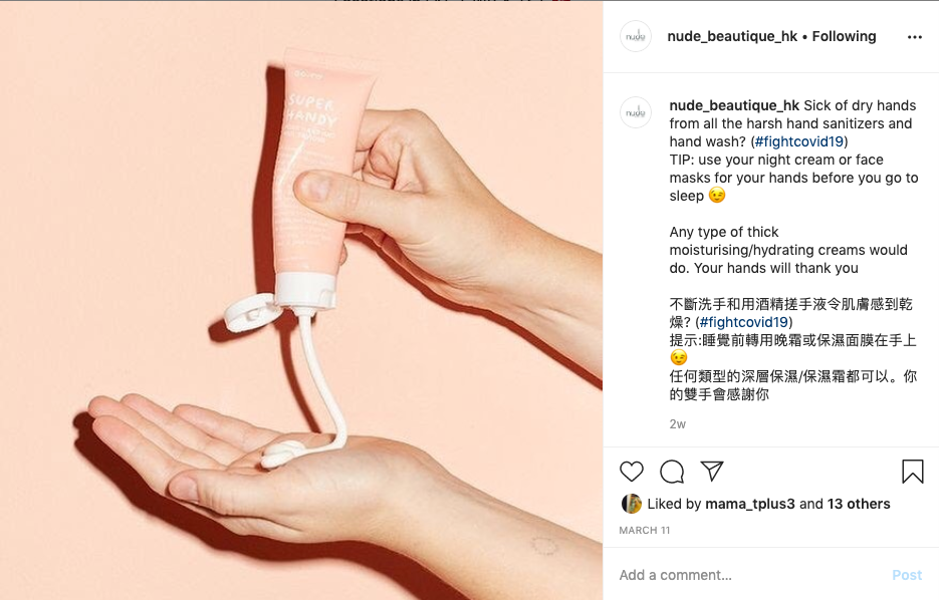 4. HAND CARE – Protect Your Hands
Frequent hand washing and use of harsh alcohol-based hand sanitizers are probably making your hands dry and sensitive. When you are at home, to counter the dryness and peeling skin you can consider:
using a gentle, moisturising cleanser for your hands.
wearing gloves when washing dishes or clothes
applying a night cream or thick hand cream, such as the Exuviance Ultra Restorative Creme (available at Nude) before going to bed.
caring for your nails too by applying cuticle oil to hydrate and protect the nail bed.
wear mittens to seal in the hydration – or simply use an old pair of socks over your hands.
As you know, looking good makes you feel good too! Don't let COVID-19 take a toll on your skin and appearance.  Plus, even after the virus is brought under control, it will still be good to practice all these hygiene and beauty techniques for good health and of course, beauty!
Do also be rest assured that at all our Nude Beauty Salons, we take safety and hygiene very seriously. All our staff wear masks at all times and everybody who enters our premises are required to take their temperature and use hand sanitizer. We also sterilise all surfaces daily,  with treatment equipment and stations thoroughly disinfected after each client.
If you wish to enjoy any of our March specials below, make your appointment at Nude with peace of mind and enjoy your beautifying session with us!
MARCH SPECIALS:
25% off Eyebrow Waxing
HK$888 Detox Facial (u.p $1,380)
HK$360 Ultra Face 360 for Eye Area Trial
Click below for ONLINE BOOKING:
Central Branch
Causeway Bay
Tsim Sha Tsui