How to Pamper Yourself During Lockdown at Home

Must-have pampering products for beautiful and healthy skin during this stay-home period
In this time of Coronavirus, chances are, you are reluctant to leave your home unless it is absolutely necessary. After all, this is the socially responsible thing to do to help stop the spread of the virus in the community.
But if you are missing your pampering treatments at your favourite beauty centre, fret not, we will be here waiting for your safe return. In the meantime, there are ways to upkeep your own grooming at home. It is especially during these times of uncertainty that it is even more important to indulge in self-care to keep your spirits uplifted.
To help you get the most out of your stay-home pampering sessions, here are five stay-home beauty rituals as well as Nude Beautique's favourite tried-and-tested grooming products to stock up on.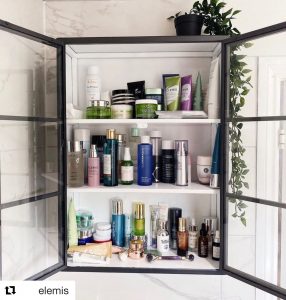 1. Get glowing skin: Exfoliate
Here is some good news. Since you are mostly staying home, you won't need frequent deep cleansing or intense facials with extractions, as you are less exposed to factors that affect your skin and cause breakouts, such as pollution and excessive sunlight.
Instead, a DIY at-home facial is a good way to keep your complexion smooth and radiant. After cleansing your face with your preferred face wash, use a gentle facial scrub to exfoliate your skin and remove dead cells and other accumulated impurities twice a week. Our favourite natural, non-polluting scrub, the Olos Face Scrub, is made with three different types of natural rice – traditional rice, purple rice extract and wholegrain black rice – to smoothen skin gently.
After you have used the scrub on your face, neck and decolletage, rinse the product with warm or cool water. Avoid using hot water as it is too harsh on your skin.
2. For deep hydration: Use a mask
For a luxurious next step in your DIY facial, put on any ultra hydrating mask to seal in the moisture for plump and healthy looking skin. We love the Elemis Pro-Collagen Marine Mask which contains super ingredients such as Padina Pavonica, a powerful algae as well as moringa and argan tree oil to firm, nourish and minimise the appearance of lines on the skin. Leave this on your face and neck for at least ten minutes before washing it off.  If possible, use this time while your mask is working its magic to recline comfortably in a chair to take a short nap or meditate. We know it is not quite the same as being in a peaceful beauty salon but at least you get to enjoy a short time-out as you beautify yourself!
3. Smoothen out wrinkles:  Apply a nourishing overnight cream
Before bedtime, don't forget to use a quality night cream to keep your skin nourished and protected while you are sleeping in a dry air-conditioned room. Exuviance's Ultra Restorative Cream, which contains a blend of Gluconolactone and Lactobionic Acid (PHAs), is a dermatologist recommended formula that provides anti-ageing benefits and is great for hydrating skin and reducing fine lines. To boost skin circulation, give yourself a simple facial massage while you are applying the cream for a couple of minutes. Don't forget to apply some to your neck and if there is any excess, rub it into your hands as well, since they are probably much drier these days due to the increased frequency of hand washing. You'll love waking up to its ultra hydrated and plump skin in the morning.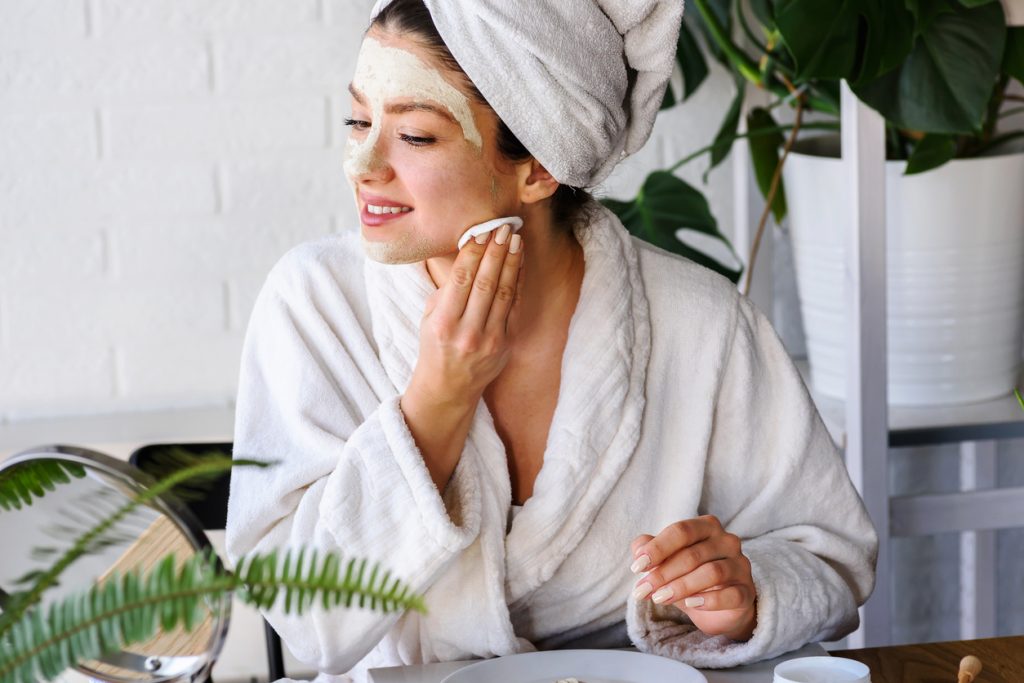 4.Pamper your body – Give yourself a good body scrub
Don't forget that your body needs some TLC too. For baby smooth skin that is irresistible to the touch, you can't go wrong with Nude's very own Exfoliating Glove. Made with exclusive Korean-developed material, this exfoliator has been tried-and-tested by many of our customers and is our best reviewed product ever. It can be used either wet or dry (for a more intense body scrub) and you will step out of the shower with baby soft, glowing skin from head to toe.
Exfoliating is also the must-do to treat and prevent ingrown hairs so you'll be ready for your next wax session!
Ps. Our favourite way to use the exfoliating glove is while taking a leisurely soak in the bathtub. Try it and you will realise just how relaxing this is!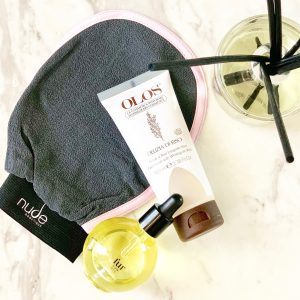 5. Don't forget your hair – Apply an oil treatment for your tresses
You might have also cut down on trips to the hairdresser for the time being, which may mean you are noticing more split ends and damaged strands in your hair. We recommend using celebrity-favourite Fur Oil, a fragrant and nutrient-packed blend of nine essential oils to soften hair and keep your tresses looking silky smooth. Initially designed for the pubic hair, this elixir is actually amazing for the hair on your head and the skin that your hair grows on as well. Best of all, the oil, which is free of parabens, sulfates, acids and cortisones is dermatologically and gynaecologically tested, so you just use a few drops and apply it to any body part or the ends of your hair to enjoy its wonderful scent and silky texture.
Now, with your face, body and hair sorted, you're all set with your home beauty routine. To equip you with the best products for your stay home regimen, Nude Beautique is currently offering a 20% discount on retail products* until 31 May 2020.  Simply use the code GIVEME20. Click Here and enjoy shopping!
*While stocks last. Terms and conditions apply