4 Reasons Why Men Love Our Back And Chest Wax
Discover Hong Kong's best kept grooming secret for men at Nude Waxing Beautique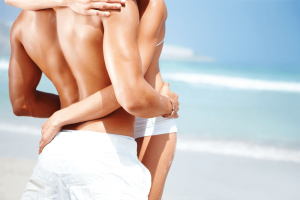 If you think that waxes are for women only, think again. Men too, find it equally important and confidence-boosting to take care of their appearance. This is why many of Nude Beautique's customers are men who enjoy our efficient back and chest wax services that will have them neatly groomed in 30 minutes or less. Here's what you need to know about signing up for a treatment at Nude, one of Hong Kong's most esteemed waxing specialists.
1. Waxing is great for hard to reach areas
It is no surprise that many men come for a back wax – especially since it is almost impossible to shave your back on your own. Back waxes at Nude Beautique can be customised to just the shoulders, lower back or the entire back. One of the biggest benefits of waxing is that it lasts for up to four weeks (compared to just a few days for a shave) and the more you do it, the more slowly and less dense hair regrowth becomes. New hair is also thinner and softer to touch.
That smooth and clean sensation is why the chest is another popular area for a wax. Here's a little secret – many men have told us how much they, and their partners, look forward to a sexy, silky smooth chest!
2. You don't have to prep for it
All you need to do is show up and the therapist will handle everything from beginning to the end. For best results, try not to shave at least one week ahead of your appointment. If your hair is about an inch or longer or very thick, the therapist will start by trimming your hair down. This makes the process faster and easier as the wax will grip the portion of the hair strand closer to the follicle for a cleaner wax.
3. Each session takes 30 minutes at most
The less hair you have, the shorter each session takes. However, in general, a full back wax takes 30 minutes and a chest wax lasts for about 15 to 20 minutes. For best results, make an appointment to come in every month as the smoothness lasts for about two to four weeks.
4. It isn't as painful as you might think
We get that men tend to have a lower pain tolerance threshold compared to women. But do take comfort in knowing that our therapists are Hong Kong's most professional and best trained at giving fast and efficient waxes with minimal pain. It can help to avoid drinking alcohol 24 hours before a wax as drinking increases skin sensitivity.
We recommend coming in about once a month as repeated sessions will make your hair easier to remove and therefore less uncomfortable over time.
If it's your first time with us, you can get 20% off your first Back or Chest wax!
So make a booking at Nude Waxing Beautique today, Hong Kong's most respected & discreet waxing specialist and feel the difference yourself!
Call +852 2868 9100