Can I Get Laser On My Brazilian?
Yes you can, and this is why Brazilian laser treatments are gaining in popularity
When it comes to removing hair down there, most people rely on waxing. But did you know it is actually possible to laser away everything down there? Brazilian laser treatments are still lesser known compared to waxing, but they are growing in popularity for both men and women, so read on to find out more.
Is it safe?
Laser hair removal technology has been around since the 1990s, making it a safe and well tested technology for the human body, including the Brazilian area. At Nude, we have a team of licensed and experienced technicians to administer the treatments. The technicians will also conduct a personal consultation before your treatment to determine if it is right for you. All our machines are FDA (Food and Drug Administration) approved and have been tested to ensure they deliver safe and effective treatment.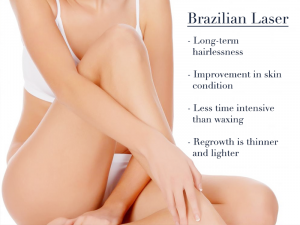 The pros: Brazilian laser offers long term hair removal
After doing a few Brazilian waxes, chances are you will become so used to the sensation of smooth, hair-free skin that you'll want to feel that way as much as possible. However, the worst feeling with waxing is the regrowth where you get a thick stubble that itches and scratches. You'll have no choice but to live with it until it grows out long enough for your next wax session.
With laser, hair grows back significantly sparser, thinner and softer so you don't have that uncomfortable itchy feeling. About 7 to 10 laser sessions are recommended for best results in eliminating hair regrowth – after that you will get to enjoy long term hairlessness, so you feel neat and fresh all the time! As a bonus, due to the skin rejuvenating properties of laser treatments, some clients do observe a slight improvement in their overall skin condition at the Brazilian area.
If you're wondering whether to take it all off or to leave a landing strip, we've noticed from our ten years of experience that it is actually a 50/50 split for females. In comparison, for waxing, the majority prefers it all off.
Plus, If you are a regular waxer, the overall cost of a Brazilian laser will be lower compared to frequent waxing. Also, you could save hundreds of hours in the long run as you won't have to return to the salon for monthly waxing sessions.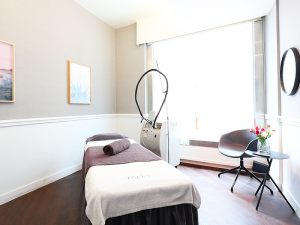 What you should know: A Brazilian laser can be uncomfortable
Now for some real talk because at Nude Beautique we believe customers should know as much as possible about the treatments they sign up for. Most clients say that a Brazilian laser feels more uncomfortable compared to other parts of the body as hair is thicker there and the area is more sensitive. Many compare it to a slight snapping sensation, so be prepared. Nevertheless, our machines are equipped with a built-in cooling mechanism to safely reduce the skin's temperature to help minimize discomfort. Our therapists are also trained to observe client's reactions to ensure a smooth-sailing session.
While most people end up hairless, it won't be 100% hair removal for everyone, but you can get very close to it. Still, even the minority who experience hair regrowth say their hair grows back very light and is much thinner, such that just one touch-up every 1 to 2 years is enough. There is also a chance that your hair may grow back due to hormonal changes like pregnancy or if you move to a cold climate (your body naturally stimulates hair growth when it the temperature drops).
FYI, Nude Beautique offers male Brazilian laser hair removal for men too. The best part – they can choose either to go totally hairless or have a hair reduction in the Brazilian area.
Click here for more information on Brazilian laser treatments. To get started on the path to a long-term, hair-free Brazilian area, sign up for your first Brazilian laser now!