Laser Hair Removal Prep: How to Get Ready for Your Session
Laser hair removal prep is just as important as the treatment itself. Say hello to smooth and fuzz-free skin with these pre- and post-laser hair removal treatment tips.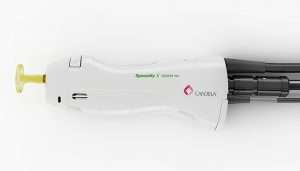 Too much plucking and tweezing can cause even the most baby soft and flawless skin to get inflamed and result in an unsightly "chicken skin" texture. Instead check out laser hair removal, a fast and precise treatment for long-term hair removal that has skin rejuvenation benefits as well. Here's a handy guide to prepare your skin for a laser treatment – and how to care for it after your session.
Before your treatment:
Shave the area to be treated between one and three days before your appointment to ensure your hair is at its optimal length for the treatment. But do avoid plucking, waxing or electrolysis completely to ensure you are getting the most out of your laser hair removal treatment. If you need to be hairless for an occation, it's best to shave.
If you tend to have a low pain treshold, avoid scheduling your treatment one week before and one week after your menstrual cycle as the skin is more sensitive during this time.
If you find the treatment uncomfortable – most people describe a slight stinging sensation which is quite bearable – take a painkiller about one hour before your treatment.
After your treatment:
For at least 48 hours after laser hair removal treatment, avoid going for other "hot" activities including sunbathing, hot yoga and excessively hot showers and do not go to the sauna or steam rooms. The laser treatment already heats up your body beneath the skin and additional heat could cause flare-ups and uncomfortableness.
As the skin's pores are more open after laser treatment, do avoid wearing make-up on the face or applying deodorant to the armpits if those are the treated areas. It is also best to skip the gym or swimming in the pool as your skin might be more susceptible to infection.
You can resume your regular skin exfoliation regimen four to five days after treatment to avoid ingrown hairs. For best results, exfoliate every other day especially while the hair is starting to grow out. You may also apply an ingrown hair product available at Nude. Should any ingrown hairs still form, do avoid picking at them as it may cause scarring.
You can apply a soothing moisturiser to your skin after laser treatment. However, peeling or resurfacing skincare is not recommended.
For effective, long-term removal of hair, you will need about five laser sessions. So do follow these skincare tips for the most effective results and say goodbye to unsightly hair growth forever!
If you want to know more about our Laser Hair Removal Treatment, click here or have more questions, please feel free to call us on +852 2868 9100 and make an appointment at one of our branches.