Say Goodbye To Back Fat Forever!
Get rid of back cleavage quickly and easily with this high-tech slimming treatment that shows dramatic results in just two to five sessions.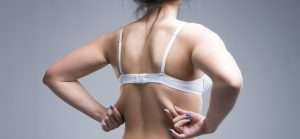 As the temperature rises, it's time to shed the layers and put on something a little more fitting. But don't let unsightly back cleavage make you feel self-conscious about when you wear fitted tops or outfits with low backs or cut outs.
To get rid of stubborn bits of back fat, an increasing number of women are signing up for a high-tech slimming treatment by Nude Beautique which provides results within two to five sessions, with each session lasting for a speedy 20 minutes.
What causes back fat
When you put on weight, it can unfortunately affect your upper-mid back, leading to back cleavage when excess back fat spills out just above the bra band. Sometimes, this is caused by wearing a bra that is too tight or in a cup size that is too small, causing flesh from under the armpit to be pushed up above the bra. But if your bra is sized properly and there are still lumps, then the fat here is most likely accumulated from a sedentary lifestyle or hours of sitting in the office. The lower back is another area where fat tends to spill over the waistline, resulting in unsightly love handles.
Unfortunately, back fat is difficult to burn off, even with regular exercise. Additionally, if nothing is done to solve this, more layers will develop and even harden over time, making it even more difficult to soften and reduce its appearance.
How to get rid of back fat
To prevent this build-up of back cleavage, sign up for the VelaShapeTM and VelaSmooth ProTM slimming treatment at Nude Beautique, which targets behind the underarms, back cleavage, and mid-back. This state-of-the-art treatment harnesses a combination of four energy types to shrink the fat cells of the treated areas for a smoother, more contoured figure.
Unlike invasive fat removal techniques which can be painful, most people find this slimming treatment comfortable and relaxing, says head therapist Pauline. "The roller suction device, which helps to drain the meridian points of the back, feels like a hot stone massage, with the added benefit of getting rid of excess back cleavage," she says.
As radiofrequency energy is used to heat the layer of fat, the skin might experience a little redness, like after a sun tanning session, that lasts for a few hours. So, if you have an important event, be sure to schedule your appointment a few days earlier to give your skin time to heal.
A speedy treatment process
All treatments at Nude Beautique start with a personal consultation to determine the areas to target. For the upper and mid back, it just takes a mere 20 minutes slimming session. Love Handles are considered another area, additional 20 minutes if needed.
A cooling gel is applied to the treatment area both before and after the treatment to protect the skin from becoming overheated and to allow the applicator to glide more easily.
After treatment, there is no need to take a shower. Instead, Pauline recommends that you take a walk for about 30 minutes to further increase circulation and drainage for an improved fat burning effect.
Not only does the treatment reduce back fat but it also helps drain part of your lymphatic system.
Depending on your individual body type, results can be seen within two to five sessions. For better long-lasting results and defined contours, a ten session package is recommended*.
It is also important to continue to have a nutritionally balanced diet, drink sufficient water and exercise regularly to enhance the slimming treatments as it cannot alone help you achieve long-term weight loss.
But together with a healthy lifestyle, women who have tried out VelaShapeTM and VelaSmooth ProTM slimming treatments have been able to obtain the trim curves and sexy back that they have always dreamed of.
The earlier you treat the area the better, as more fat layers tend to develop if there is no regular exercise and diet.  So, make an appointment at Nude Beautique now to get started on your path to eliminate back fat just in time for summer!
*Results differ for individual cases depending on body type, age, expectations, lifestyle and diet.