New Nude Beautique at Causeway Bay: 5 Reasons to Love It When You Visit
There is now a new Nude Beautique at Causeway Bay! Nude Waxing unveils a stylish new look at its Causeway Bay outlet, as a calm oasis in this bustling district.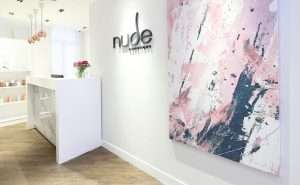 Since its launch in Hong Kong in 2007, Nude Beautique has gained a well-deserved reputation as the best waxing salon in the city for its efficient and professional services. Beauty and wellness junkies also rely on Nude as their go-to beauty centre for a wide range of treatments and services including laser hair removal, slimming and brow & lash tinting.
This month, we reveal a brand new look at our Causeway Bay salon to transform the space into a stylish yet calm oasis in the bustling city. Enjoy an immediate sense of serenity and peace as you step into the light and airy beauty centre, now refreshed with dove grey wallpaper, a trendy marble reception space and vibrant artwork to admire.
Here are five reasons why you'll love Nude, the best waxing salon in Causeway Bay, even more now!
1. Enjoy the jungalow vibes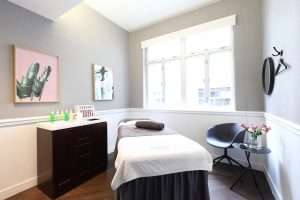 We've brought a bit more nature into the city with new artwork in the common spaces and treatment rooms. Be mentally transported to a tropical paradise as you admire the framed images of monstera and palm leaves as well as cheery houseplants to brighten up the interior of the reception area. How nice to enjoy some greenery in the heart of Causeway Bay!
2. A brighter, welcoming environment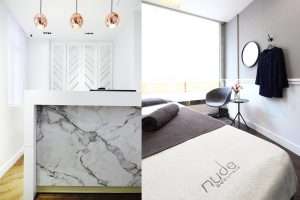 One of the first things you'll notice will be how much larger the space feels. No, we've not expanded our space. Instead, through the use of clever design touches, such as cool-toned dove grey wallpaper, fresh white walls and rose gold pendant lights, the interiors now look brighter, more welcoming and yes, even more spacious than before. So take a deep breath, relax and enjoy your respite from the bustling city.
3. The human touch
Be assured that you will always receive the best customer service at Nude Beautique. Our dedicated and passionate staff are not only extremely knowledgeable about our full suite of services and products but they also speak both English and Cantonese fluently to ensure all the essential information is clearly communicated to our clients.
4. Only the latest, state-of-the-art equipment is used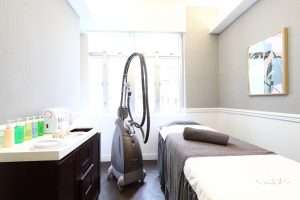 Nude Beautique is well known for its discreet and professional services. Which is why we never hesitate to invest in the latest and most efficient machines to ensure that only the best technology is used for our clients. We've introduced a new laser hair removal machine as well as a slimming machine to help you achieve your desired body goals more quickly and effectively.
5. The Nude experience is online too
Our service doesn't end when you step out of the beauty centre. Instead, you will continue to enjoy the perks of being a customer with our seamless online booking system so there's no hassle in scheduling your next treatment. We are also contactable via SMS, Whatsapp, email, live chat, Facebook message and of course, telephone – whatever you prefer!
Make and appointment and visit us at our Causeway Bay location to feel the difference for yourself!