Laser 101 For Men: Everything You Need To Know About Laser Hair Removal
Laser is one of the most popular and effective hair removal procedures in the world. And it is highly recommended for men too. Here's a guide on what to expect.
To keep or not to keep your body hair? That is a personal choice, with some men preferring to go hairless (or to reduce the amount of body hair they have) to better show off their muscle definition on their chest and abs or for sports performance reasons. While there are many hair removal methods, laser often considered the best procedure for its long term benefits.
At Nude, the most popular areas for laser hair removal and reduction are the back, chest and shoulders – these are the body parts which men tend to be most self-conscious about, especially if they are excessively hairy.
You can also laser facial hair, especially around the beard line, to get a more aesthetically pleasing "stubble" shape. However, while it is possible to be completely hairless at other parts of the body, you won't be able to get the same effect at the jawline for men as hair growth here is triggered by hormonal factors.
Other body parts that can be lasered for hair removal include the back of the neck, legs, arms and Brazilian area.

How does laser work?
Non-invasive laser procedures work by directing a wavelength of highly concentrated light at the hair follicles. When the pigment in the follicles absorb the light, it destroys the hair without damaging the surrounding skin.
According to a study done by Syneron Medical, laser tends to be more efficient at hair removal compared to IPL which uses various wavelengths with less energy density.
At Nude, we believe in offering only the most effective treatments, hence we only offer laser hair removal services using the best medical-grade and FDA approved devices on the market. Before undergoing your first laser treatment, you will have a personal consultation with one of our highly skilled aestheticians to determine the right treatment for your goals and preferences.

Does it hurt?
Yes, there is some discomfort involved, which is often described as a slight stinging sensation but the level of pain depends on a number of factors. This includes the hair density, hair thickness, your personal pain threshold and how sensitive the area is. For instance, the back and shoulders are less sensitive compared to the inner thighs and the chest.
That said, laser is certainly less uncomfortable compared to waxing, especially if you are removing hair from large body parts like the chest, back and legs.
You know what they say – no pain, no gain!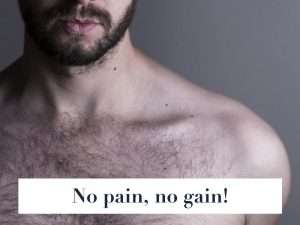 How many sessions do I need?
Usually our clients need just 5 sessions and are extremely thrilled with the results, especially if their target is hair reduction. Depending on the area of the body that is treated, skin colour, hair colour and hair thickness, up to 10 sessions may be needed to achieve your desired results. If you would like to be completely hairless, you may need a few more sessions which could be covered in your guarantee period.
How long will results last for?
While we cannot guarantee you will be totally hairless forever, we can get you pretty close! In fact, men can sometimes experience better results compared to females because they do not experience the hormonal fluctuations that can trigger hair growth.
In the years following your laser hair removal sessions, your body might eventually start to produce hair in the treated areas, but the majority of our clients see minimal to zero regrowth. In case hair reappears, it will likely be very light and hardly noticeable so you may just need a touch-up every 1 to 2 years.
In very rare cases, a significant amount of hair can grow back due to several stimulating factors, such as hormonal changes, a change in climate, medicine intake and medical conditions.
How do I prep for a laser treatment?
Avoid plucking, waxing and electrolysis up to six weeks before the treatment to ensure all the hair follicles are growing normally. You can shave if you prefer but you actually don't need to as the therapist can do that for you.
Avoid sun tanning or applying tanning lotion prior to your appointment. It is also advisable to avoid alcohol before your session as it tends to make your skin more sensitive.
Is there any downtime?
There is no downtime and you may resume your regular activities as per normal. You may experience some skin redness after treatment that feels a bit like a sunburn but it should disappear within an hour to at most a few days. Apply cool compresses and lots of moisturiser to calm the skin. Do also avoid activities that will increase your body temperature significantly such as sun tanning and sauna for a day or two.
Over the next few days, you will notice the hairs start to die and fall out of your skin – for good!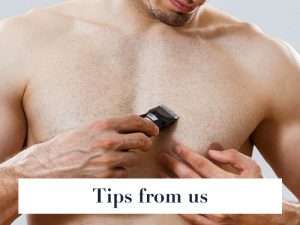 Some tips to get the most of your laser hair removal treatment:
Get it done before your hair turns grey for the most effective hair removal possible
Exfoliate after a week of your treatment to gently and effectively remove dead hair and skin cells.
Now that you know the basics of laser hair removal, are you ready to try it out for yourself? Make an appointment at Nude Beautique for a consultation with our highly trained aestheticians to determine the best treatment for your needs.
Current Promotion: 50% off first time Trial
Call 2868 9100 to make an appointment at any of our locations