Say Bye Bye to Eye Bags and Wrinkles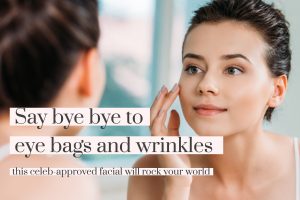 Look more youthful and less tired with this celebrity-favourite treatment – the Exilis Ultra 360 Face
The year end party season is just around the corner, which means it is time to put your best face forward for the celebrations! But if a year of hard work, late nights and stress has taken its toll on your appearance, fret not.
Nude Beautique is pleased to introduce an effective new facial treatment, the Exilis Ultra Face 360, a favourite of Hollywood celebrities like Kim Kardashian. This gentle, non-invasive treatment harnesses two types energy – ultrasound and radio-frequency (RF) – to target common signs of aging and fatigue including pesky eyebags and wrinkles. This FDA-approved technology is extremely safe and provides clinically proven results to give a visible reduction in deep creases as well as fine lines to shave years off your face.
The treatment process
During the treatment, the therapist will guide the applicator tip over the targeted area to deliver heat energy to the deeper layers of the skin. The combination of the two types of heat energy helps to stimulate collagen production within the skin. This plumps up and fill in lines and wrinkles. The treatment also improves circulation which helps to reduce the appearance of eye bags.
For targeted areas, the treatment will take about 30 minutes and does not require any downtime, making this an ideal lunchtime procedure.
Hifu vs Ultra 360 Face
How does this compare to HIFU face lift?Both of these popular treatments, which are available at Nude, are great for an overall radiant face. The difference is that each treatment targets a different problem area. Hifu, which works on muscle layer, is great for lifting and sculpting the face to give you your designed facial contours.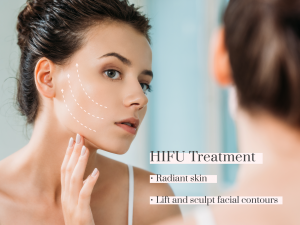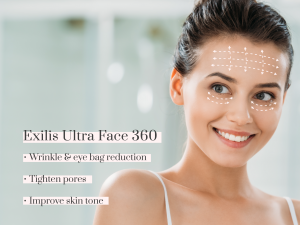 On the other hand, Ultra Face 360 works on the deeper layers of the skin, which makes it an ideal treatment for wrinkle and eye bag reduction. This treatment also helps to tighten pores and improve skin tone so you will feel comfortable wearing just minimal make-up.
You may choose to do both treatments to complement each other. However, our skin experts advise waiting for a week in between treatments for best results.
The results
Many people report seeing visible improvement in their wrinkles and eye bags after just one session, with progressive results over a three-month period as collagen production continues. For sustainable results, we suggest at least six sessions with a two-week interval followed by one session a month. Depending on the individual, it should take no more than 10 sessions for you to reclaim your youthful appearance.
To experience the amazing results for yourself in time for the festive season, click here to read more or book yourself an appointment at Nude Beautique now!