Best Laser Hair Removal in Hong Kong: Nude Waxing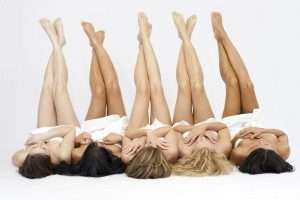 Looking for a place that offers the best laser hair removal in Hong Kong? With a multitude of various beauty salons and physician offices offering the service, it could get overwhelming. Choosing the right laser hair removal provider can be a daunting task given the numerous options available. This blog hopes to shed some light on how you should go about choosing your laser hair removal service.
The first question to ask is what machine they use. All LHR machines are definitely not created equal and different types of machines are better for treating different skin/hair types. Here are some things to look out for:
Brand of machine (manufacturer): there are many copy-cat or no-name laser hair removal machines on the market. LHR is a highly technical procedure and the wrong machine could sometimes lead to severe health risks or skin damage. The largest and most frequently used LHR manufacturers in the world are Syneron (Candela), Lumenis, Cynosure, Alma and Fotona. All LHR technologies from these manufacturers are stringently tested and with US FDA approval. Especially in Hong Kong you will find many no-name laser hair removal brands from China or Korea, avoid these at all costs!
Type of machine (wavelength): The effectiveness of LHR treatments is largely determined by the wavelength used to treat a particular skin/hair type. The laser wavelength emitted is measured in nanometers. Shorter nanometers (755nm) are better for light skin/thin hair and longer nanometers (1064nm) are better for darker skins/thicker hair. Unless you are of extremely dark/light skin or thick/thin hair, it is best to stay with a machine that is around 810nm – which is called a Pulsed Diode Array laser machine. Be sure you ask about the wavelength being used on you or it could be completely wrong!
Other than the technology used, experience of the therapist conducting the LHR treatment is the other critical factor to a good treatment. Here are some considerations.
Should I go to a doctor's office or laser hair removal clinic? Doctor's offices are a good choice if the actual doctor or dermatologist is conducting the treatment. Unfortunately this is many times not the case, and you will end up paying a premium to have an assistant perform the treatment in a doctor's office. Professional laser hair removal clinics specialize in LHR and typically have much more experience with a large volume and variety of clients, the price is also usually more reasonable. Whichever route you choose, the most important criteria is that such business has been established for many years with therapists that have solid experience with laser treatments.
Ask technical questions: the technician's ability to assess your skin/hair type in order to adjust the settings of the laser machine properly is the most important skill for a successful treatment. Choosing the correct pulse width based on skin type is critical – longer pulse for darker skins. Also, selecting the correct fluence (energy level) based on skin and hair type will determine the safety versus effectiveness of the treatment. These are pretty technical type considerations, but my suggestion would be to just ask. If the technician is unfamiliar with the terms or cannot give a good answer, you are probably dealing with an amateur.
Finally there is question of how much should you pay for a permanent hair removal treatment. There is a wide spectrum of prices in Hong Kong for permanent LHR service. The cheapest treatments are called intense pulsed light (IPL) treatments. However beware that IPL is not the same as laser hair removal and typically has an effectiveness level far below that of laser treatments (not entirely permanent). LIP are usually price cheaper but it'll usually take a longer time to get the results needed. Some laser hair removal services are also offered at very cheap prices, however keep in mind that the best machines and technicians are not cheap – so you will typically get what you pay for. On the other end, the large permanent hair removal chains or dermatologist offices will typically charge a huge premium without delivering exceptional service. Nude has been a leader in providing LHR services since 2007. We carry the global leading Syneron and Lumenis technologies, with some of the best technicians in Hong Kong.
Learn more about our Laser Hair Removal Treatment here.
Nude Beautique
Central – 4/F, Man Cheung Building, 15-17 Wyndham Street, Central
TST – 17/F, Canton Plaza, 82-84 Canton Road, Tsim Sha Tsui
CWB – 2/F, 18 Pak Sha Road, Causeway Bay
Booking Hotline: +852 2868 9100
Whatsapp Booking: +852 5511 5774