Laser Hair Removal vs Waxing: Which One is Better and Hurts Less?
By Kenny Thapoung of Marie Claire Magazine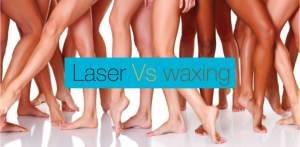 When choosing between laser hair removal vs waxing, the answer boils down to your pain tolerance and total budget for getting them regularly.
 Waxing is popular for two main reasons:
1) The thought of a razor being near your vulva is scarier than anything we've seen American Horror Story, and
2) Everyone and their mother does it. And we totally understand the appeal. It's a pretty seamless ordeal—unless you have an extremely low pain tolerance—and lasts longer than shaving. But what about this thing called laser hair removal? While definitely not new, it seems that more women—at least the ones we know—are opting for this long-term method. In a few short sessions over a few short weeks, you won't have to worry about hair on your upper lip, legs, or bikini area ever again (dream come true?). "This uses a certain wavelength of light to create heat energy at the hair root or follicle," says board-certified dermatologist Whitney Bowe, M.D. in New York City. "It [targets hair color] and warms up the follicle to a temperature which ends up destroying the stem cells—or, where the hair would normally grow."
Sounds like a death sentence (for your hair) and seems legit, but are you ready to leave behind the waxing world for good? Here, Bowe breaks down everything you need to know about laser hair removal and waxing and which option you might want to test drive.
Laser Hair Removal

A typical treatment process can require between three to eight separate sessions every six weeks. Since it requires precise handling of a beam to target particular body parts, vetting for a trained professional is key.
But that's not the only thing you need to think about before you step into the light. First, you need to know that while effective, there's no way every hair will be blasted in your first treatment. Since laser hair removal is most effective during a hair's growth cycle (which is essentially impossible for you to be aware of), only about 20 to 30 percent of hair is permanently removed during any given session, says Bowe.
Also, laser treatments work in favor of women with fair-colored skin and dark hair. Asian, Latino, African American, and light-haired women will have to see their specialists more because their skin tone makes it difficult for the laser to focus on the hair and not the skin. In some cases, you may not even be able to get the treatment. "It only works if the root of the hair is dark," says Bowe, "and the root of the hair has to be darker than the color of the skin." Laser hair removal becomes extra tricky in the summer when people try to get the procedure done with a sun-kissed complexion. "If the heat doesn't know where to go, then that can lead to skin burns," says Bowe.
And pre-treatment prep is important, too. Just like waxing, you need to make sure you have long enough stubble for the light to detect. Avoid any form of waxing leading up to your appointment, and if you must trim, use scissors or a razor over the top the hair—not the root.
As for the actual treatment? If you have super sensitive skin, you might want to try applying a numbing cream 15 to 30 minutes beforehand. And when it comes down to price, it all depends of the surface area you want targeted. The upper lip can cost around UDS$150 (approx. exchange rate to HKD$1170) per session while legs and the bikini line will burn more money through your wallet.
Waxing
Ahh, the pull-tight-and-hold-your-breath method. While waxing is pretty straightforward, your aesthetician is literally pulling the hair follicle out of your root, which can ruin the little tunnel that guides your hair from the roots to the surface of your skin and cause a (gulp) permanent ingrown hair. Obviously that doesn't always happen, but fun fact: Laser hair removal can actually get rid of ingrown hairs while waxing can cause them to appear.
If you don't abide by this already, Bowe recommends not using anything with Retin-A or benzoyl peroxide before waxing. Products with those ingredients strip off skin cells, and when you wax, you're peeling off even more. Same goes for any form of exfoliating—don't do it prior to your appointment. As for pricing, it varies depending on the salon.
So, here we are with two choices—which one should you try? Unfortunately, we can't decide that for you (gotcha!), but we can leave you with some quick pros and cons: Laser hair removal is an expensive treatment and will take a while to work entirely. That said, once it's done, you'll never have to worry about body hair again. If you fit into one of the do-not-laser categories previously mentioned, waxing might suit you better.
In the end, we're good with either method because shaving is THE. WORST.
Learn more about our Waxing Treatment click here.
Learn more about our Laser Treatment click here.
Nude Beautique
Central – 4/F, Man Cheung Building, 15-17 Wyndham Street, Central
TST – 17/F, Canton Plaza, 82-84 Canton Road, Tsim Sha Tsui
CWB – 2/F, 18 Pak Sha Road, Causeway Bay
Booking Hotline: +852 2868 9100
Whatsapp Booking: +852 5511 5774