A Miracle Facial Does Exist: Introducing Elemis BIOTEC Facial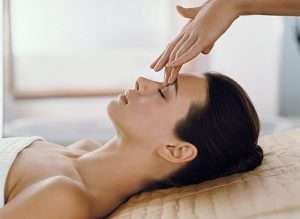 You've probably heard the rumours about the magical Elemis BIOTEC facial. Set your skepticism aside — this state-of-the-art, results-driven line of facials delivers the best results in the business.
As one of the world's leading professional skincare brands, Elemis is constantly pushing the industry forward with results-driven products. The clinically proven Elemis BIOTEC facial series is a fantastic example: Each facial in the series is specifically designed to address various skin issues from resurfacing to lifting, acne, dull skin and pigmentation problems.
Combining high-performing botanical serums and innovative technology, the Elemis BIOTEC facials are truly transformative. The advanced bio-electric technology uses five tools:
Ultrasonic Peel: Uses a piezoelectric current that sends 27,000 vibrations a second through a quartz/ceramic head to deep-cleanse pores, exfoliate skin, increase collagen production, minimised fine lines and accelerate the healing process.
Microcurrent Lift: Physically firms skin buy sending microcurrent pulses into the muscles, similar to the natural currents in the body. This firms muscles, contours the face, aids the healing process, as well as improves blemishes, sun-damage and scarring.
Galvanic Rejuvenate: A combination of negative and positive ions cleans pores and forces out impurities. At the same time, high-potency actives penetrate skin to reduce signs of aging and fine lines.
Oxygen Infusion: Bursts of 95% pure oxygen help high-potency actives infuse the skin. Improves firmness, tissue repair, radiance and plumps fine lines.
LED Light Therapy Rebalance: Red and blue light therapy penetrates the skin, deep into cells to rebalance skin, stimulate collagen, minimise bacteria and calm redness.
From acne treatments to lifting, resurfacing to men's facials, Elemis BIOTEC facials are the most effective in the world. Numerous clinical trials have proven that BIOTEC is the best in the business.
In the BIOTEC Skin Resurfacer facial, for example, skin smoothness can improved by 45% after just one treatment — and 100% of women said they thought acne scarring looked visibly reduced.  Likewise, the ground-breaking Firm-a-Lift facial has been clinically proven to deliver on its promise. After just one facial, 95% of women (aged 48-58) said their skin was firmer, and 91% reported seeing a dramatically lifted and more contoured complexion.
My Elemis Biotic Facial Treatment:
After an initial consultation at Nude Beautique, my facialist Pauline prescribed the BIOTEC Radiance Renew facial to combat tired, dull and dry skin. One of seven types of BIOTEC facials, the relaxing 75-minute-long treatment started with an aromatic pro-collagen cleansing balm packed full of 9 different types of essential oils.
She initially exfoliated my skin using an ultrasonic frequency wand to get rid of dead skin cells, even out pigmentation and smooth fine lines. With a name like "ultrasonic frequency," you might assume this part was painful, but it just felt like a slight tickle. She then extracted my clogged pores — always a problem with Hong Kong's humidity and pollution. Normally extraction is my least favourite part of a facial, but Pauline managed to unclog my pores without leaving my face all red and blotchy.
After cleansing again, she applied a mask that's is rich in magnesium, zinc, vitamin A and E which help restore lost moisture, deeply nourish, detox and energise nutrients. It slowly hardened over the next 10 minutes. In the meantime, she massaged my shoulders, arms and neck with enough tension to iron out my knots without ruining the relaxation. Then came another mask, this time smelling of elderberry and orange flower.
On top of the cooling hydra gel mask, she used the BIOTEC galvanic micro-current tools to apply negative ions to my skin to extract dirt and toxins. After the negative ions pulled out the gunk, she switched to positive ions to inject skin-renewing goodness into my pores. I was expecting something painful, but I actually didn't feel anything other than the metal tool gliding across my skin.
The process only took a few minutes, and before wiping off the mask, she applied a 'prayer' movement to massage the remaining product to the skin and focus on upwards lifting movement to the face following with a refreshing toner and a dab of eye cream. The treatment finished with a light face massage to work in Elemis's Pro-Collagen Marine Cream — the cream draws a cult following for its dramatic performance, driven by a unique Mediterranean algae called Padina Pavonica.
So did the BIOTEC facial work? In all honestly, it was the most transformative facial I've ever had. My skin looked and felt amazing after the treatment, and the radiant glow lasted for days —even without makeup on. It even made my dark circles disappear, which is a miracle in itself!
To know more about Nude's Facials, click here.
Written by: Kate Springer