Tinting 101: Wake Up With Lashes You Love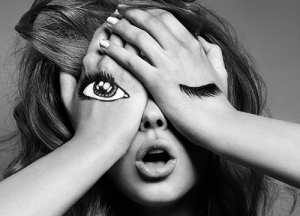 Always dreaming of waking up, running out the door and looking like a celebrity? We have a secret that will change your entire morning routine. Go ahead and toss that mascara — you won't be needing it anymore.
Good morning, gorgeous! You know what they say: the eyes are the window to the soul, and often the very first thing people notice when they meet you.
Spending 30 minutes crafting red-carpet-ready lashes every morning? We hate to be the first to tell you, but that's 30 minutes too long. Your eyes can make a lasting first impression, but that doesn't mean you need to spend hours primping every morning.
Nude Beautique, Hong Kong's favorite beauty center, can help you take back hours of your life with eyelash and eyebrow tinting. Celebrities like Kim Kardashian and Selena Gomez have mastered the 'I woke up like this' look, thanks to regular tints that enhance their natural beauty and accentuate facial structure.
We can't argue with the Kim's flawless finish, but it's actually blondes and redheads who see the most dramatic results from eyelash tinting. The evidence is out there — just take a look at celebrities with natural red, gray, blonde and light-brown hair, like sun-kissed Jennifer Aniston and rebel Cara Delevingne.
More often than not, fair-haired women are completely blown away by how full and long their lashes appear after a treatment. That's because their eyelashes and brows tend to be lighter, which causes an "invisible lash" effect that simply can't be remedied by loading on mascara.
Whether you have white-blonde or dark brown hair, eyelash tinting accentuates every single natural lash — even those you never knew you had! It's a no-brainer: not only will your eyelashes look long, lush and lovely every waking (and sleeping) moment, but tinting also affords more natural look compared with fake lashes or spidery coats of mascara.
Eyelash tinting is completely painless and the process takes roughly 15-30 minutes. Worried about the color? Rest assured, each semi-permanent vegetable dye is custom-mixed for your lashes, ranging from blonde to blue-black, and everything in between. Afterwards, enjoy darker and thicker looking lashes for three to six weeks.
A perfect complement to eyelash tinting, eyebrow tinting is another secret beloved by the stars. After all, a killer pair of arches can completely change your appearance, creating a more contoured and balanced face structure.
But you don't need an eyebrow pencil to achieve the perfectly manicured look: eyebrow tinting makes your eyes pop by dying hair a custom-blended color that's perfect for your hair and skin tone.
Eyebrow and eyelash tinting services are not just for women. Plenty of men love the hassle-free service, which keeps brows looking sharp with little to no upkeep for weeks at a time.
Dedicated to all the best brands and services, Nude Beautique works with Australian brands RefectoCil and Belmacil, which both specialize in semi-permanent vegetable dyes that are healthy and natural.
Visit our Eyebrow and Eyelash Grooming page for more information and frequently asked questions, or book a personal consultation at one of our Nude Beautique locations.We offer eyebrow waxing service as well!