Do Body Slimming Treatments Really Work?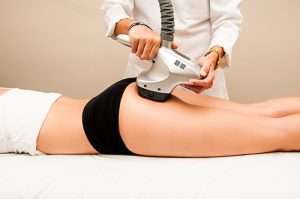 Fad diets and detoxes promise to help you shed pounds, but how many of them actually work? Hong Kong slimming center Nude Beautique is thrilled to offer one miracle slimming treatment that actually delivers on its promise.
We're surrounded by temptations in Hong Kong, with all the new restaurants, social obligations and work functions — it goes without saying that staying slim can be a challenge to find the time and eat well. At the same time, the weight-loss market is overwhelming, offering up mostly empty promises to melt away fat.
If you've struggled with weight loss, then you've probably tried your fair share of pills, potions and slimming treatments. The results are always disappointing: we don't know of any massage, vacuum therapy, creams, tea, cleanse or pills that will actually transform your body— and we've tried pretty much everything.
But instant results aren't impossible. Put down that slimming shake, you don't want to miss this: slimming center Nude Beautique is home to the most effective slimming treatments in Hong Kong. If you want to get rid of cellulite and lose belly fat, VelaShape and VelaSmooth Pro are the only non-invasive slimming treatments on the market that deliver instant results.
After just one slimming treatment, you will see a difference. And after 10 weeks of continuous treatments, you can achieve your ideal figure along with lasting results*. Without any down time, you can look forward to smoother skin, fat loss and a visible reduction in cellulite.
To shrink fat cells and reduce cellulite, VelaShape and VelaSmooth Pro treatments harness a fascinating combination of technology — a mixture of massage, bi-polar radio frequency, suction and infrared light. The process feels warm and even relaxing, like a deep-tissue massage.
An added bonus? VelaShape also doubles as a cellulite treatment to reduce lumps, bumps and dimples, so your skin looks and feels smoother after each session. The slimming treatments also help to improve circulation, facilitate drainage, and boost collagen ­— making VelaShape a smart investment in your overall health.
VelaShape isn't just for women who are looking to shed serious pounds. Even men and women who exercise daily and maintain a healthy diet have trouble getting rid of cellulite, muffin tops and excess belly fat. Some of our most loyal clients are personal trainers and athletes who can't seem to get shed stubborn fat and cellulite no matter how often they hit the gym.
Like any slimming treatment, the results are as amazing as the work you put in. If you combine VelaShape and VelaSmooth Pro with regular exercise and a healthy diet, you will achieve your ideal physique — and keep it.
Learn more about our Slimming treatments, please click here.
* Results may vary depending upon age, sex, BMI, medical history and lifestyle. All treatments and after care are suggested by Nude's professionally trained therapist and customized as per individual requirement to give best possible results.