Permanent Laser Hair Removal Cost: Is It Worth the Price?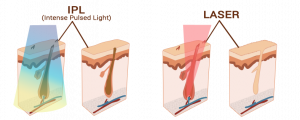 Doing research on permanent laser hair removal cost is a sensible step before booking your appointment. Thinking about permanent laser hair removal in Hong Kong, but worried about the cost and safety? Nude Beautique's essential guide will help you better understand the perks, prices and technology before your first treatment.
Shaving and waxing require time, money and maintenance — but what if you could wake up every day with silky smooth skin? For women and men who have battled unwanted hair their entire lives, permanent hair removal is a total game-changer.
The benefits of permanent laser hair removal are endless. For starters, laser hair removal provides long-term results, that will save you a whole lot of time in the future. After just 5-6 treatments, you will wake up with smooth skin that's clear of unwanted hair, whether it's on your face, back, underarms, or intimate areas.
So how much is laser hair removal? Prices for permanent laser hair removal in Hong Kong will vary based on a few factors;
Treatment area – The larger the area you're treating, the more expensive the process will be, simply because it will take more time.
Hair color – The lighter the hair colour, the more sessions you will need to remove hair because laser hair removal works best when there's high color contrast (i.e. dark color hair on fair skin)
Type of Machine – The quality & technology used determines how effective the treatment is (number of sessions & long term results) in addition to its safety
IPL vs Laser:
The type of hair-removal machine used will also affect prices. While an IPL (intensed pulsed light) therapy machine may be cheaper per session, it ultimately takes more appointment to achieve desired results and will end up being more expensive. On average, Nude Beautique offers PHR treatments that take just 5 sessions to get the job done* — twice as fast as traditional IPL services.
According to clinical trials, permanent laser hair removal is a more effective and efficient method of hair removal than IPL. Think about it as a long-term investment in your appearance and sanity. And besides, once you stop spending on waxing every month, the cost of laser hair removal will pretty much cover itself!
Risks – You've probably heard horror stories from friends about burns, scarring, and other unseemly side effects. Don't let that happen to you. All laser machines are not created equal. Committed to offering the highest possible standards, Nude Beautique has done all the research for you and only employs the best medical-grade machines for its permanent laser hair removal services.
As the leading beauty and hair-removal center in Hong Kong, Nude Beautique uses FDA-approved PHR machines such as Syneron e-Max ELOSTM, Candela GentleLase, and Lumenis Lightsheer to provide clients with the best possible permanent hair removal services in Hong Kong.
Ready to give it a try? For more information on our Laser Hair Removal Services, click here.
* Results vary for individual cases