ELEMIS Pro-Collagen Super Serum Elixir: Facelift in a Bottle
The new ELEMIS Pro-Collagen Super Serum Elixir that fights wrinkles and revives that youthful glow is now available at Nude Beautique.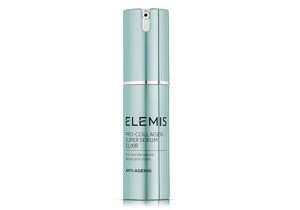 A pioneer of anti-ageing skincare products, ELEMIS recently unveiled yet another power-house beauty product. This world-renowned British brand has earned a reputation for its ground-breaking products and high-performance facials — developed through rigorous testing and clinical studies.
As you'd expect, the ELEMIS Pro-Collagen Super Serum Elixir delivers a powerful formula that's been clinically proven to reduce fine lines and wrinkles. Smooth and hydrating, the gel-like liquid goes on like butter, pumping powerful wrinkle-reducing active ingredients into your skin.
An effective and affordable alternative to fillers or Botox, the Pro-Collagen Super Serum Elixir will plump, smooth and brighten skin without any needles or surgery which you can see instantly. Drawing from the brand's 25 years of cosmetics excellence, the elixir has quickly become a best-seller at Nude Beautique — one of the lucky few beauty centers stocking ELEMIS products in Hong Kong.
It all comes down to the product's key ingredients: tri-peptides, African birch bark, red seaweed and padina pavonica — a Mediterranean algae that's proven to improve skin's elasticity and firmness. The serum also contains highly effective hyaluronic acid, a naturally occurring element in skin that locks in moisture and combats signs of aging. For extra hydration, ELEMIS has also added omega-rich Camelina oil, which leaves the complexion looking smoother, plumper and more youthful.
The facelift in a bottle is conveniently available at Nude Beautique locations in Central and Causeway Bay. Committed to industry-leading products and treatments, Nude Beautique is one of the first and only beauty centers in Hong Kong to offer ELEMIS' award-winning products and facials.
Nude Beautique's philosophy is rooted in results-driven treatments and products, making ELEMIS a natural fit for its lineup of premium cosmetics brands. Living up to its reputation as Hong Kong's best beauty center, Nude Beautique is constantly updating its treatment lineup, products and machines to offer the most innovative and premium experiences on the market.
If you love the Elixir, you'll also appreciate the ultra-effective ELEMIS facials available at Nude Beautique. To resurrect tired looking skin, try an ELEMIS BIOTEC facial. The personalised treatments begins with a consultation with one of Nude Beautique's skilled therapists, who will analyze your lifestyle and skin concerns before recommending the most appropriate treatment — be it BIOTEC Radiance Renew, BIOTEC Sensitive Skin Soother or BIOTEC Firm-a-Lift. The high-tech treatments use an innovative facial mapping technology to deliver instantly visible improvement.
Nude also offers several other ELEMIS facials, including the Superfood Pro-Radiance Facial, Dynamic Resurfacing Precision Peel Facial, Procollagen Age Defy Facial, and the White Brightening Pigment Perfector Facial. Every treatment is personalized, using powerful ELEMIS products and state-of-the-art technology that have been proven in clinical trials to turbocharge your skin.
To know more about our Elemis facials, please click here.