FAQ On Waxing During Pregnancy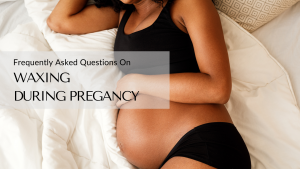 If you're planning on getting waxed while pregnant, then there are a few things to keep in mind. Keep reading for our answers to your frequently asked questions on waxing during pregnancy.
Frequently Asked Questions on Waxing While Pregnant
Q. Can I get a Brazilian wax during my first trimester?
A. Yes, it is safe to get a Brazilian wax during your 1st trimester. However, if you are still unsure, we recommend seeing your doctor or obstetrician-gynecologist before coming in for an appointment.
Q. Is Brazilian waxing safe during pregnancy?
A. Yes, it's perfectly safe to have a Brazilian Wax while pregnant. While there are some products or activities to be careful of while pregnant, waxing is not one of them. Some believe that the ingredients from the wax can be dangerous, but actually, the wax is not absorbed into the body. The wax itself cannot affect an unborn baby.
Q. Is waxing painful during pregnancy?
A. During pregnancy, hormonal changes are to be expected. Hair may grow thicker, darker, and in areas it never has before. Increased blood flow, especially in the pubic area, can make the skin feel more sensitive to pain as well. Such changes may cause waxing to feel more painful than it previously was. The skin is also more likely to get itchy and irritated after a wax during pregnancy.
Q. Can you get a Brazilian wax right before giving birth?
A. As mentioned, getting waxed while pregnant is generally safe. It really all boils down to preference. And for those still having doubts, you can consult your OBGYN.
We do encourage you to not get your Brazilian wax within the same week of your expected due date as the waxed area will need a couple of days of downtime. We recommend getting a Brazilian wax within at least 2 weeks before your due date to avoid potential skin irritation.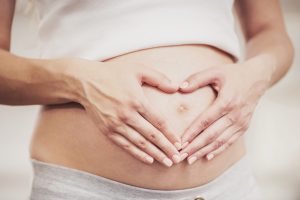 Q. When should you avoid waxing during pregnancy?
A. Waxing during pregnancy is generally harmless. However, there are certain conditions wherein it is not recommended to get waxed during pregnancy:
• Melasma, or the mask of pregnancy, is a skin condition that causes brown patches to appear on the face of a pregnant woman. It is not advisable for women with melasma to undergo waxing as the process can irritate the skin and worsen symptoms.
• If your skin tends to get particularly itchy or irritated during pregnancy, it is best that you avoid waxing as it may lead to breakouts or in-grown hair growth.
• If your skin currently has rashes or scarred tissue, then it is advised that you avoid waxing. This is because you may be more prone to allergic reactions and acne.
• If you have varicose veins, then you should also avoid waxing.
• If your body has moles, warts, pimples, and lumps, we do not recommend getting waxed as waxing on such areas could cause broken skin and infections.
• Finally, do not get waxed if your skin is sunburnt as the wax may cause the skin to flare up.
General Safety Tips When Getting Waxed:
• It is best to get a wax when the hair is one-fourth to three-fourths of an inch long.
• Be sure to wash and dry the area before getting waxed.
• After getting waxed, soothe your skin by applying a cold compress or cold pack. To avoid irritation, wear loose clothing and only use an oil-free moisturizer on the waxed area. This is because oily formulas could clog the pores.
Avoid hot showers or baths immediately after waxing as the skin will be more sensitive to heat.
So congrats to all beautiful soon-to-be mums, just let our waxing experts know your great news and they will take good care of you, book online now.  Or Call Us 2868 9100 or Message Us 5511 5774.