How to Lose Fat Without Exercise: Cellulite and Fat Reduction with VelaShape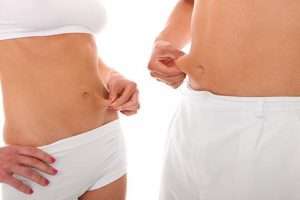 Want to know the secret of how to lose fat without exercise? You might already be exercising constantly but can't get rid of stubborn fat and cellulite. Nude Beautique is here to help. Home to the best slimming treatments in Hong Kong, Nude uses advanced VelaShape and VelaSmooth Pro services to shrink fat cells, smooth cellulite, and contour those curves.
It's a common headache: You exercise every day, stick to a healthy diet, and still can't shed that muffin top. Maybe you have stubborn fat stuck on your lower back, along your hips or padding your stomach —  the fat just won't budge no matter how many sit-ups you do. So now you're wondering how to lose fat without exercise.
Weight loss can be incredibly frustrating, but it's actually not impossible to get rid of that belly fat and achieve your ideal shape. What's the secret? Body slimming treatments — and Nude Beautiques's non-invasive VelaShape and VelaSmooth Pro services are the best slimming and cellulite treatments in the world, not just Hong Kong.
Celebrities all over the world swear by VelaShape slimming treatments to lose baby fat or simply perfect their physiques. Even Kim Kardashian turns to VelaShape slimming treatments as her go-to secret weapon in order to maintain that impossibly tiny waistline. Where you store fat is out of your control, which is why so many fit and focused individuals — even personal trainers — turn to VelaShape and VelaSmooth Pro slimming and cellulite treatments to trim and tone their bodies to perfection.
After just 10 VelaShape slimming treatments, you will see dramatic changes in fat loss and cellulite reduction — plus your skin will look and feel tighter. I know, because I've tried it myself! My muffin top has always been a sore spot for me, causing my waistline to look thicker and a bit of bulk to poke out from my jeans. Despite exercising nearly every day and eating lean during the week, I have never managed to shake this fatty spot, so I was excited to lay down and try the slimming treatment at Nude Beautique.
My first reaction? It felt like a warming deep-tissue massage, a little more intense on the fattest areas with the most cellulite. It's pretty fascinating technology, essentially shrinking fat cells below the surface of your skin using a mixture of suction, mechanical massage, infrared light, and bi-polar radio frequency. Each cellulite and body slimming treatment lasts anywhere from 20 minutes to an hour, depending on the size of the targeted area. My whole treatment took about 45 minutes — I was in-and-out over lunch hour with time to spare.
The treatment promises to instantly slim and smooth target areas with no down-time. And it totally delivers on the promise of instant results — my therapist showed me side-by-side comparisons and the difference was pretty dramatic. My lower back and butt not only looked slimmer but they also felt smoother to the touch, and noticeably less wobbly!
Not only can VelaShape target the stubborn fats and cellulite, but the slimming and cellulite treatments also improve circulation, boost collagen and facilitate drainage, which results in better overall health. When paired with a healthy diet and regular exercise, VelaShape and VelaSmooth Pro slimming treatments can help you take control of your body for the first time. I know I personally can't wait to see how my body transforms over the next 10 treatments!
Learn more about our Slimming treatments here.
Nude Beautique
M88 – 14-01 M88, 2-8 Wellington Street, Central
CWB – 2/F, 18-20 Pak Sha Road, Causeway Bay
Booking Hotline: +852 2868 9100
Whatsapp Booking: +852 5511 5774