How to Treat Ingrown Hairs: What You Should Know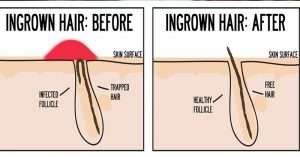 Knowing how to treat ingrown hairs properly will save your skin from irritation and prevent them from growing back again. Here's what you need to know.
How to get rid of Ingrown Hairs
Whether it's your first wax or your 50th, many women and men cope with the same pesky problem: ingrown hairs. Trapped under the skin, these tiny little gremlins can be uncomfortable, unsightly and even lead to infections when not treated properly. Our expert aestheticians at Nude Beautique have shared some insight about those finicky follicles.
Ingrown hairs are actually quite common
It's not just you! Almost everyone will see an ingrown hair at some point in his or her lifetime. There are lots of types of ingrown hairs — you might notice bumps, dark spots or even a snake-like strand that's trapped under the skin. These happen when the hair curls up, creating a bump, or other times the hair grows sideways at an awkward angle just under the skin. Either way, ingrown hairs tend to be itchy, uncomfortable and can even appear like a rash.
Clients with coarse, curly hair are more susceptible
Since ingrown hairs are caused by hair curling back on itself, the issue is more common among men and women with curly hair. At the same time, oily skin can also cause a higher occurrence of ingrown hairs. So as the hair tries to grow out, it hits a wall of excess oil and/or dead skin cells and gets trapped under the skin. That's why it's important to exfoliate regularly — this will scrub away dead skin cells, as well as dirt and oil that cause buildup.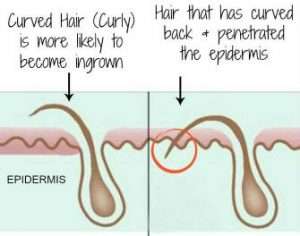 Top Tip: The specialists at Nude Beautique recommend exfoliating 3 days after a wax then maintain at once a week for normal skin, or twice a week for clogged skin. Granular, sea salt-style scrubs are typically the most effective and leave skin feeling fresh. If you're looking for something other than a scrub, ask about the Nude Exfoliating Mitt, which unclogs pores and works wonders on any part of the body.
If left untreated, ingrown hairs can become infected
Like pimples, many clients are tempted to take matters into their own hands at home, but if you dig at ingrown hairs it can cause an infection. It's important to remember that the irritated area is full of bacteria and picking at any blemishes will likely lead to further infections and then scarring.  And if the infection happens to be around the Brazilian area, the unsightly scar will takes 3 times as long to heal compared to other parts of the body.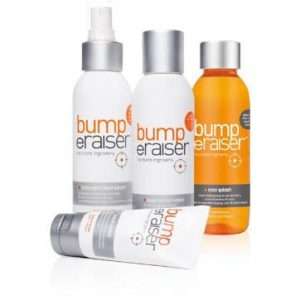 Top Tip: Don't pick at it!  At home, use a topical cream such as Bump Eraiser Concentrate serum (available at Nude), which treats ingrown hairs and prevents them from recurring. Other useful products include Bump Eraiser Antibacterial Wash to remove excess oil and reduce breakouts; and Bump Eraiser Triple Action Lotion, which prevents ingrown hairs.
If you have some serious ingrowns appearing, come into Nude Beautique and have the ingrown hairs extracted professionally by a therapist. It's a cleaner, safer solution that won't leave a scar. In very serious cases of multiple infected ingrown hairs, you may need to see a doctor.
You get what you pay for…
There are many reasons ingrown hairs can occur — hair texture, dead skin cells, oil buildup —but one of the most common causes is poor waxing & hygiene technique, commonly coupled with a low-quality wax. If you opted for a budget salon, then chances are you may see a greater number of ingrown hairs emerge after your treatment. This is largely because a cheaper wax may not adhere to the hairs completely, causing breakage mid-follicle.  As waxing your body leaves your pores open it is easily exposed to bacteria so there is an even higher chance of infection going to a budget salon which probably has poor hygiene practices.
Top Tip: To ensure the highest standards, Nude Beautique has gone above the call of duty to find its premium wax, which smells like strawberries. The highly trained technicians here also employ sophisticated waxing techniques that minimize discomfort, irritation and ingrown hairs.  Plus their hygiene practices ensures tools are constantly being sanitized and no double dipping of any kind in the wax pots. Explore our waxing services for a smooth experience.
Preventative products can work wonders
If you're struggling with ingrown hairs or want to take preventative measures, Nude Beautique is armed with a host of products that can help. In addition to those mentioned above, ask about the refreshing Cool Splash lotion, which calms itchy red skin and prevents ingrown hairs, and the magical Medi Paste, which is excellent for spot treatment at home. They're both powerful products to add to your beauty arsenal!
Got an ingrown?  No problem we're here to help!  Just give us a call and visit one of our branches and we'll take care of it the right way.
Booking Hotline: +852 2868 9100
Whatsapp Booking: +852 5511 5774
Central – 4/F, Man Cheung Building, 15-17 Wyndham Street, Central
TST – 17/F, Canton Plaza, 82-84 Canton Road, Tsim Sha Tsui
CWB – 2/F, 18 Pak Sha Road, Causeway Bay