Why You Should Wear A Fabric Face Mask in Hong Kong
Tips and facts about using fabric face masks to prevent the spread of Covid-19.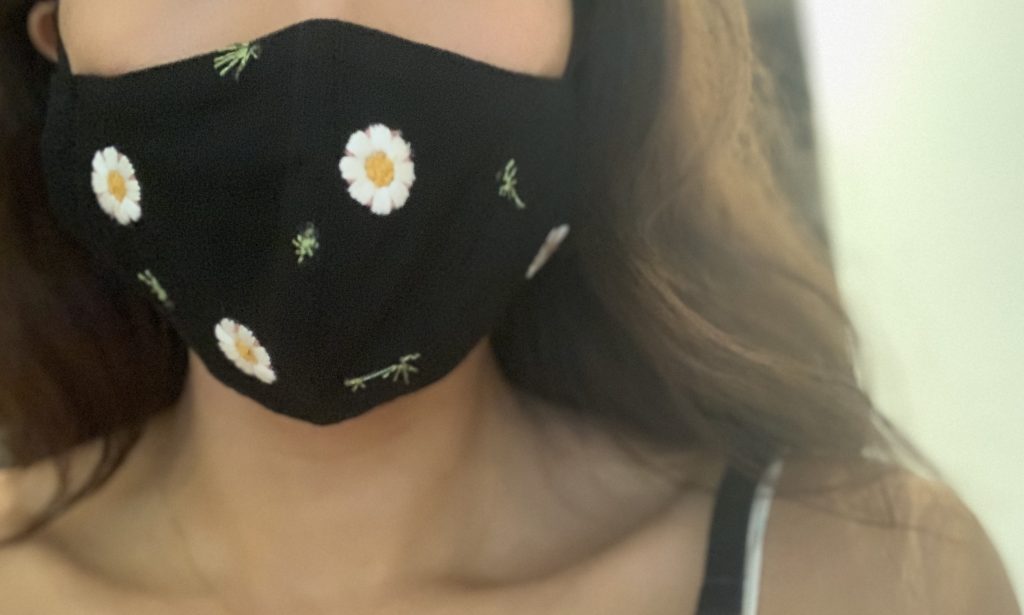 Since the beginning of the coronavirus pandemic, Hong Kong was one of the first places to encourage mask wearing to slow down the spread of the Covid-19 virus. But while mask wearing is mandatory in Hong Kong, it is less common to see people using fabric masks. Interestingly, wearing fabric masks have become popular in many other parts of the world and are even developing into a fashion statement.
Plus, if worn right, fabric face masks are also one of the best options for protection against Covid-19. Here are some tips and facts about why fabric face masks are becoming so widely used around the world.
Paper Masks Vs Fabric Masks
There is no doubt that N95 (or KN95) masks are the gold standard for masks. However, they are not easily obtained as they are typically reserved for medical professionals and are expensive to purchase. These masks which are meant to be fitted tightly to the face to be effective are difficult to breathe in, making it challenging for regular people to wear them properly for long hours.
This is why surgical masks are most commonly used in Hong Kong. They are effective at protecting people from the wearer's respiratory emissions and are more comfortable to wear. However, these single use disposable paper masks are not environmentally friendly and because we will likely have to wear masks for the long run, using surgical masks exclusively may have detrimental effects on the environment.
This is why it makes good sense to turn to fabric masks, which can be washed and reused multiple times.This will allow you to reduce your impact on the environment. And while most cloth fabrics alone may still allow particles and water droplets to penetrate, there is a way to highly increase the efficacy of cloth masks. Do pick masks that come with a filter pocket so that you can then use PM2.5 filters with them.

What Are PM2.5 Filters?
PM2.5 filters, which comprise up to five different layers including an activated carbon layer and are made from the same materials used for N95 and KN95 masks. When added to a cloth mask, they have been found to be extremely effective at blocking out even the smallest particles including germs as well as pollutants in the air. It is also easier to breathe through a PM2.5 filter compared to a N95 mask, making it a better choice for those who need to wear a mask for long hours.
TIPS for effective fabric mask wearing
Just like with wearing paper masks, it is important to ensure that your fabric mask fits your face properly. It should sit tightly around the nose and mouth with as few gaps from your face as possible.
To keep your fabric masks clean, hand wash them with soap and water as often as once a day and allow them to air dry. You should also change your PM2.5 filter once a week or whenever it becomes harder to breathe through it.
Ensure you have at least 2-4 to rotate with your washing schedule
When eating or drinking, do remove your mask entirely from your face and place it in a clean bag or mask holder to prevent it from getting contaminated.
It is also important to be aware that masks are not 100 per cent effective at preventing virus transmission. It is essential to practice good hand hygiene by washing or sanitising your hands regularly, avoid touching your face when you are out and about and to practice good social distancing. Together, these measures will keep you and the community safe from the virus.
Do wear re-usable masks and filters when pollution in Hong Kong is bad to prevent pollutants from irritating your respiratory passages.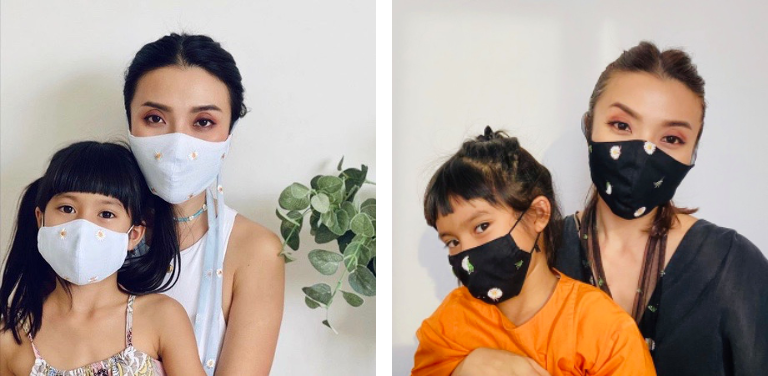 Make a fashion statement with your fabric mask
Since it appears that mask wearing will be a reality for some time to come, why not have some fun with your masks. One of the benefits of fabric masks is that they come in a wide variety of textiles and patterns, so you can mix and match them to complement your outfit. No wonder fabric masks are trending globally these days!
Check out these pretty face masks (pictured above) designed by BaeBeeBoo and handmade in Singapore.  Spotted with daisies and foliage embroidery on tulle, each mask is made with 100% cotton crepe as a base and comes with the filter pocket for the charcoal filters. Sold exclusively in Hong Kong at Nude Beautique.  Not only are they cute, they are mostly produced by Pathways to Better Life Ltd which is a charity that equips unwed/single mothers with relevant job skills to enhance their employability and help them establish financial stability and independence.  I mean, isn't it just great to be able to help and contribute to make someone's life better while shopping?  Better yet, they even come in a kid's size for face mask twinning! Click here to see the Black Daisy Face Mask and the Blue Daisy Face Mask (both available in child size too). If you want to check out more of their gorgeous twinning range click here for BaeBeeBee.
As Nude Beautique recently reopened, we are pleased to offer customers a welcome back gift. When you renew or purchase any beauty packages, receive a Nude care package comprising:
– a reusable cotton face mask (pink or grey)
– PM2.5 filters (x10)
– mask pouch for safe keeping
– hand sanitizer.
Our breathable cotton masks are made with two layers of fabric and come with a filter pocket as well as adjustable ear loops for maximum comfort. Available in Pink or Grey and includes the PM2.5 filters (10 pack). The face masks can also be purchased at our Hong Kong salons or online shop at Nude's e-shop.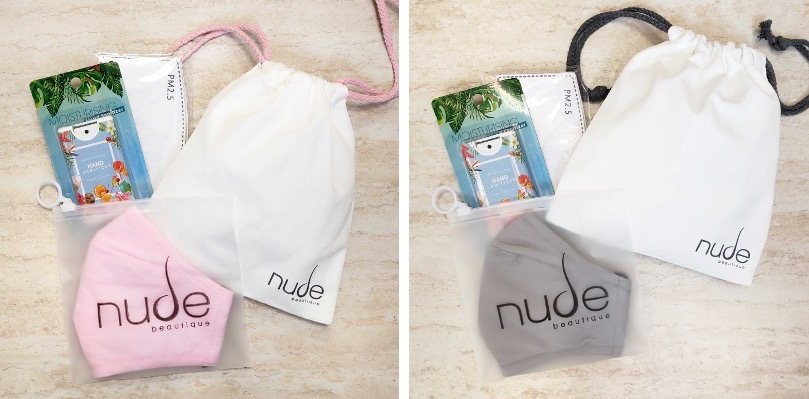 Start building your collection of this year's must have accessory – the reusable and fashionable face mask – now!