How To Get The Right Facial For Your Skin Type?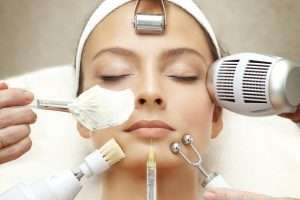 Having a relaxing facial at your beauty salon can be one of the most rewarding experiences – imagine having your skin taken care of, while lying on a comfortable bed with some soothing music ticking the time away… just that before you can fully enjoy the result of a pampering facial, it is very important for us to choose the right facial for our skin types.
There are five skin types that are most commonly found: dry skin, oily skin, normal skin, sensitive skin and combination skin. Different skin types represent different challenges to pampering and often time people would be confused over which facial is the best for their skin. A mismatch of facial and your skin type could easily lead to a waste of your expensive skincare and most importantly, the potential irritation and adverse reaction of your skin. Here are some advices for you to choose the ideal facial for your skin.
When people with dry and dehydrated skin are looking for facials, it is of course very important for them to choose a facial that can instantly boost the moisture level of the skin. One thing to note is that while exfoliating sounds more like an oily skin ladies' business, it is the key to a healthy complexion for almost all skin types. With the right amount of exfoliating, it can help your skin better absorb nutrients and moisture, thus leaving your skin more supple and hydrated after you applied your skincare products. If you are looking for a facial that could help you get rid of that extra dead skin layer and be able to moisturize the dehydrated skin at the same time, I would recommend the GM Collin wrinkle firmness cellular treatment. What is special about it is that it includes micro-dermabrasion, which is an exfoliating procedure that uses very fine exfoliators to remove dead skin cells from the skin. This facial will diminish the appearance of fine lines and enliven any dull skin.
On the other end of the spectrum, ladies with oily skin not only need more exfoliation but also an adequate amount of moisturization. Because of the more active oil glands, people with oily skin are usually more acne-prone as oil builds up inside the pores more frequently. The Elemis Tri-Enzyme Resurfacing Treatment would be a good choice for oily skin ladies who have too much shine on their skin. With the advanced resurfacing techniques, the facial can help to remove the thick layer of dead skin cells and clean the pores. The skin will be smoother and look more radiant after the facial.
If you have sensitive skin, you have to be more careful when choosing your facials because your skin is more prone to irritation. The GM Collin Water Radiance Treatment is very popular among ladies with sensitive skin because it is very soothing and hydrating, and will leave your skin more youthful after the treatment.
Sensitive skin does not go well under the sun as well. Exposure under the sun can cause sunspots on sensitive skin. You may also find the skin more dehydrated and irritated than usual. The GM Collin Collagen Vitamin C Treatment would be a suitable choice if you need an after-sun care. It can diminish the appearance of dark spots and rejuvenate the skin with moisture and make the skin feels smooth, firm and alive again.
Even if you don't have much skin problem, you can always enjoy a facial at your beauty salon and benefit from a nice facial massage. Massaging the skin (the right way!) is very crucial to healthy skin, not only will it help with blood circulation, it also relaxes the usually tense facial muscles that may lead to fine lines and wrinkles.
If you are still having a hard time choosing the right facial, you can always consult with your beauty therapist and let them help you with all the hard work!
Learn more about our Facial Treatments here.
Nude Beautique
Central – 4/F, Man Cheung Building, 15/17 Wyndham Street, Central
TST – 17/F, Canton Plaza, 82-84 Canton Road, Tsim Sha Tsui
CWB – 2/F, 18 Pak Sha Road, Causeway Bay
Booking Hotline: +852 2868 9100
Whatsapp Booking: +852 5511 5774